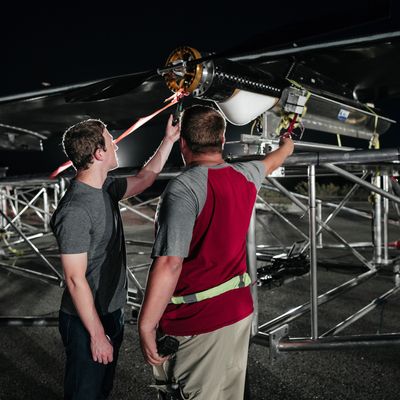 Facebook dominated the headlines this year more than any of its tech-giant rivals. Unfortunately, none of it was for stories Facebook might have liked. Since the election, a great media panic over "fake news" distributed across the service has erupted; six months earlier, the company drew ire from conservatives when Gizmodo reported that the editors controlling its "trending" widget were avoiding "conservative" topics. Any company as large as Facebook will have to face criticism at some point, but it's rare to face quite as much (and as urgent) criticism as Facebook has, and it speaks to Facebook's transformative power.

But in many ways Facebook would be happy to leave that particular power behind. The central problem Facebook faces is the News Feed of images and information that greets users when they log in to the site or open the app. The News Feed is Facebook's largest, most famous, and most profitable product; for most users, it's synonymous with Facebook itself. But it's also the company's most-criticized and most-reviled product — the one that has transfigured not just journalism but politics as well.
But the feed as an organizing principle is dying, along with the overwhelmingly public Web 2.0 that Time celebrated ten years ago. In April, Bloomberg reported that the company was "working to combat a decline in people sharing original, personal content, the fuel that helps power the money machine at the heart of its social network." Put another way: Facebook has increasingly become a site for outside links and third-party memes and jokes, and not personal content like status updates and photos of friends. This change has an obvious effect on user satisfaction — but maybe more importantly, it has an effect on Facebook's ability to gather the data it needs to target ads — the overwhelming source of its revenue — more effectively. Context collapse and the mental load that comes with managing a plurality of online and offline identities was making posting a less attractive prospect.
Meanwhile, the News Feed is increasingly onerous to manage in the face of public, blunt, and constant criticism. (At the same time, Facebook has admitted to miscalculating some of the statistics it provided to brands and advertisers.) The recent controversy over the proliferation of fake news and misinformation might make you wonder how the company will right a heavily listing ship. Even asking that question, however, implies that Facebook cares beyond appearances about fixing the News Feed filter bubble and improving that part of its product. But while the News Feed is still hugely profitable (and will continue to be for many years), it's not the future of Facebook.
One indication that Facebook is looking beyond the News Feed is on your News Feed itself: Facebook Live, the livestreaming feature into which Mark Zuckerberg has pumped millions of dollars, paying celebrities and brands to use it, and now buying billboards that literally explain how. That billboards explaining how to use a tech product even exist encapsulates how well the Live rollout has gone, but the existence of the feature demonstrates Facebook's anxieties: How can it encourage people to post more original content, and fewer external links? Would it be possible to turn the News Feed into a stream of videos — à la Snapchat — and not an index of political argument and conspiracy theory?
Facebook has spent much of the last year chasing Snapchat, which has managed to build a bustling, millennial-friendly service around core concepts of privacy, ephemerality, and the lack of uncomfortably accurate ad-targeting. Live video on the News Feed, ephemeral 24-hour "Stories" in the Instagram app (an idea co-founder Kevin Systrom explicitly admits was taken from Snapchat), and facial lenses from recent acquisition MSQRD show us what Facebook would like to be — fun, light, and easy to use. And not centered around the News Feed.
Elsewhere, Facebook bolstered its messaging service, rolling out an API for chatbots, automated services that you interface with in the same way you might text someone. Chatbots are attractive to Facebook because they offer not just the opportunity to collect data but the opportunity for the company to insert itself as a middleman in all kinds of transactions, as WeChat has done to great success in China. But not yet: Chatbots have yet to take hold in any significant way, mainly because they require a substantially different approach to development than graphical interfaces do.
Maybe the most important indicator of where Facebook is headed after the News Feed is those solar-powered drones that can fly for months at a time and beam internet access to people via lasers. At this year's F8 conference, Mark Zuckerberg literally lifted up a drone engine onstage in a show of strength that wouldn't be out of place at an arms convention. Written out, the drone concept sounds ridiculous (once upon a time, so did "driverless cars"), but the core of it points to Facebook's greater ambition: owning the pipes.
Facebook doesn't want to be a portal to the rest of the web, it wants to be the web. Over the last few years, Mark Zuckerberg has made an exhaustive effort in nations outside of Europe and the United States to roll out Free Basics. The "free" in Free Basics — the crown jewel of Internet.org, Facebook's broader initiative — derives from a concept called zero-rating. Services that are zero-rated don't count against data caps, effectively making them free to access (and violating the concept of net neutrality, the notion that all data traveling across a network should be treated equally). Facebook has spent years convincing mobile carriers to offer even those without data plans free access to Facebook. In the short term, this gives users resources they might not otherwise have. In practice, it effectively gives Facebook a monopoly on which internet content users in the developing world see. In India this spring, public outcry over what Internet.org was actually trying to do led to a complete rejection of the service.
That setback hasn't stopped Facebook from trying to expand though. Internet.org is still running through mobile carriers in dozens of countries. Facebook also owns WhatsApp, a messaging service that is incredibly popular abroad but hardly used in America, which, in 2014, it paid a then-flabbergasting $19 billion for. Internally, Facebook is reportedly developing tools that might allow it to once again breach the Great Firewall of China.
The fact of the matter is that the quality and overall strategy of News Feed (and live video, and chatbots, and Instagram stories, and WhatsApp) matter less and less to Facebook if they end up running the pipes as well. Almost everyone hates their ISP, but when it's the only one in town, it can get by on subpar service. Facebook doesn't want to be the best option for using the internet; it wants to be the only option. And to get there, it will spread across territories outside the U.S., mostly out of sight of domestic watchdogs. Don't take your eyes off of Zuck and Co. for a second.