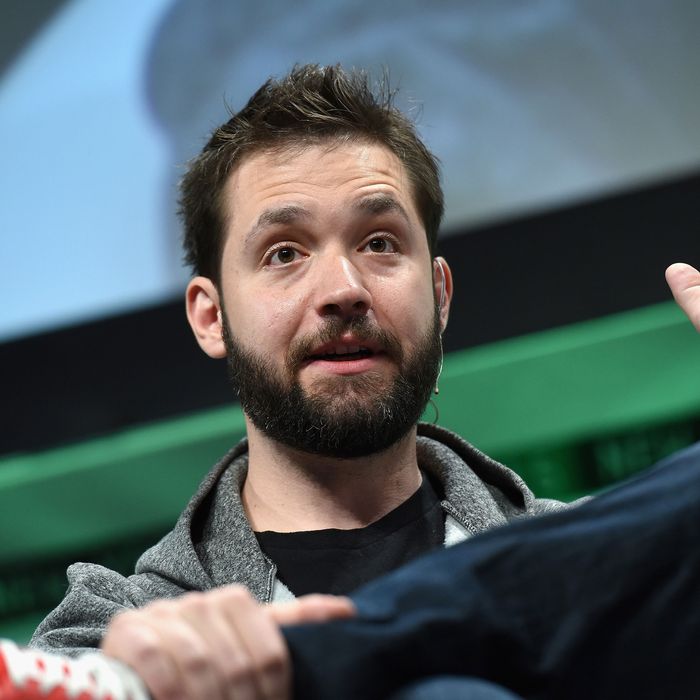 This is Alexis Ohanian.
Photo: Noam Galai/Getty Images for TechCrunch
Earlier today, Serena Williams announced, in a Reddit post, that she is engaged. A cartoon in the post, featuring a digital rendering of her (complete with Nike tennis outfit) accepting a ring from a cartoon dude in a Reddit T-shirt, reads "Future Mrs. Kn0thing." This might seem like a strange way for one of the world's most famous athletes to announce a forthcoming marriage. Unless you've been keeping tabs on her love life since 2015 (or saw this Instagram photo from Halloween), in which case, you'd know that Williams has been dating an entrepreneur named Alexis Ohanian — known best for co-founding Reddit, where he's famous as user "kn0thing."
For those of us who don't wander around shouting "the narwhal bacons at midnight" (the pass-phrase to identify yourself to a fellow redditor IRL), you may be asking yourself … Self, who is Alexis Ohanian? And can he possibly deserve the hand of one of the greatest athletes to grace the Earth?
Ohanian, who was born in Brookyln and attended the University of Virginia, co-founded Reddit — a link-sharing site that relies on user voting to determine what floats to the top — with Steve Huffman back in 2005. The site took three weeks to code and Ohanian himself drew the site's tiny alien mascot, Snoo. In the early days of the site, Ohanian was known for sending handwritten notes and gifts to early adopters.
Ohanian is nearly six-and-a-half feet tall. Not that height is everything!
His motto is "making the world suck less." Back in 2012, he played a prominent role in killing the proposed Stop Online Piracy Act, which was designed — in theory — to fight online copyright infringement and illegal sales. Instead, Ohanian and Co. turned Reddit off for a single day in January, showing people what the internet would be like under SOPA. (Answer: less viral content.) Wikipedia and Mozilla did the same, Forbes reports, prompting enough people to call their representatives that 19 senators cut ties to the proposed bill in a single day, leading to its ultimate demise. After that, Ohanian teamed up with a nonprofit to found the Internet Defense League to "make sure the internet never loses. Ever." Sure! The same year he ran a cross-country-bus tour, "The Internet 2012," devoted to discussing politics, activism, and the internet. BuzzFeed deemed it the kickoff of Ohanian's run to become "president of the internet."
Reddit's not Ohanian's only business; six years ago, he founded travel website Hipmunk, for which he drew the mascot — a chipmunk wearing aviator goggles — too. More recently, Ohanian left his post as a partner at Y Combinator, raised over $100 million for the third fund at Initialized Capital (a VC firm he co-founded in 2010), and also — somewhere in the last year or two — the great Serena Williams kindly deigned to date him.
Upon his engagement to Williams, he is now the luckiest nerd on earth — at least, as far as Wikipedia was concerned for the few minutes this edit lived on his page earlier today.
Congrats, Alexis and Serena. If you're looking for a good couple name, may I suggest Will.I.An? Has a nice ring to it.