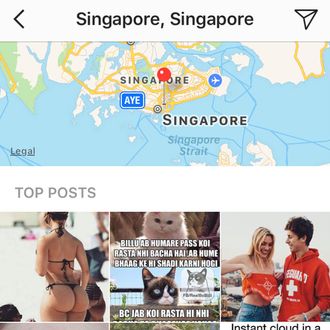 Stars and "stars" of the social media, in constant pursuit of virality, are always looking for new ways to extend their reach. They individually DM fans. They come to Brazil. And now, some have started geotagging their Instagram posts from "Singapore, Singapore" despite never having set foot on the island nation — because it allegedly helps their photos and videos appear on the Instagram explore page where they can be seen by a wider range of users.
The trend was first spotted by Taylor Lorenz over at Mic who says that some of the cyber's biggest stars — Lele Pons, King Bach, Logan Paul, "King of Instagram" Dan Bilzerian — have tried the hack in recent weeks. But none of the stars and verified users she spoke to could give a reason as to why the Singapore trick seems to work or where it started.
From Mic:
Some guessed that Instagram has been slower to roll out the algorithmic feed in certain Asian countries such as Singapore, and that by geotagging their posts there, they're able to reach the top of users' feeds more easily. The "slow rollout" explanation might not be the case, though: Instagram actually released its new algorithm-based feed in Singapore in April.
Despite claims the trick — which specifically involves taking the Singapore tag off after 24 hours, making it difficult to track after the fact — works, the larger effect seems to be confused fans rather than a massive influx of likes or new followers. If you Instagram from "Singapore, Singapore," you probably shouldn't be standing with a friend wearing Mickey Mouse ears and captioning your photo about how much you love Disneyland. Select All has reached out to Instagram about the trend and will update this post if we hear back.