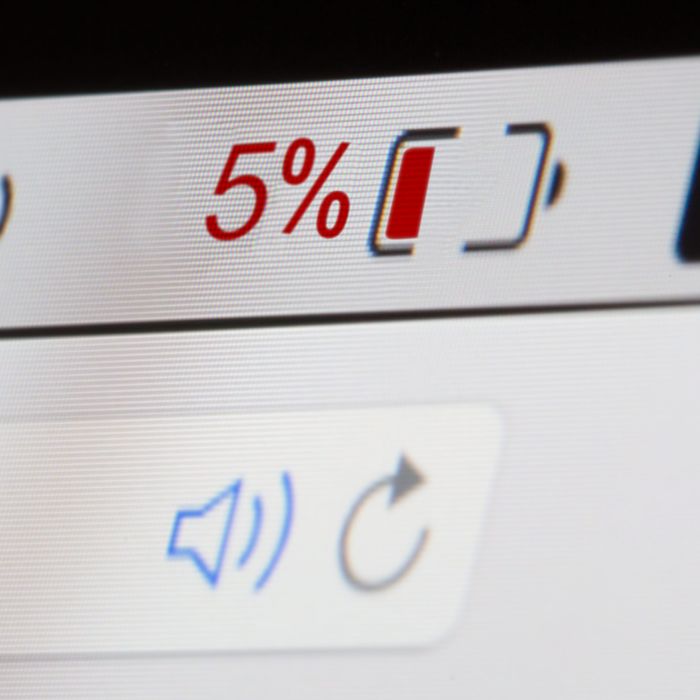 Just looking at this picture gives me anxiety.
Photo-Illustration: Jaap Arriens/NurPhoto via Getty Images
Today at Bloomberg, Mark Gurman does a precise and unsparing autopsy of the thoroughly underwhelming rollout of Apple's newest laptops. The problems are myriad. There's the still dubious value proposition of the Touch Bar, the move to eliminate every port except USB-C, and underpowered machines that cost significantly more than nearly everything else on the market — even compared to Apple's usual markups.
But perhaps the most troubling problem since launch is that the MacBook Pro batteries are unreliable. Verge editor Jake Kastrenakes saw six hours of battery life on average, from a computer that promised ten. Apple sent him a replacement laptop — and he experienced the exact same battery issues.
Even those with relatively decent battery life in their new MacBook Pros were reporting something much more frustrating: The time estimate of how much juice they had on their laptop until it goes dead fluctuated wildly. Apple, in response to the outcry, decided to fix the problem by eliminating the time estimate in its latest OS update. So if you have 37 percent battery life left on your very pricey new MacBook Pro, you get to play a fun guessing game of when exactly the thing will go belly-up on you.
So, why the problems with the batteries? Gurman explains what exactly went wrong:
[W]hen Apple has tried to leapfrog the competition, it has fallen short. Take the company's attempt to create a longer-lasting battery for the MacBook Pro. Apple engineers wanted to use higher capacity battery packs shaped to the insides of the laptop versus the standard square cells found in most machines. The design would have boosted battery life.

In the run-up to the MacBook Pro's planned debut this year, the new battery failed a key test, according to a person familiar with the situation. Rather than delay the launch and risk missing the crucial holiday shopping season, Apple decided to revert to an older design. The change required roping in engineers from other teams to finish the job, meaning work on other Macs languished, the person said. The new laptop didn't represent a game-changing leap in battery performance, and a software bug misrepresented hours of power remaining. Apple has since removed the meter from the top right-hand corner of the screen.
So, if Gurman's report is accurate, Apple shipped MacBook Pros with non-optimal batteries in order to hit a key sales season, rather than waiting to get it right. Yes, Apple has a historical obsession with deadlines. And, yes, when it delays products like the AirPods or the white iPhone 4, it becomes a news story. But by pushing forward, Apple has punished those who jumped on the new MacBook Pro at launch this year.
It's tempting to want to blame the buyer here. Apple, after all, has a long history of not quite sticking the landing on its first attempt at something new. But it had been 18 months since an update to the MacBook Pro, and before that it had been nearly two years. Many core users were still limping along on relatively creaky machines and were anxious to get something better. Now, because they jumped first, they're stuck with laptops that don't perform up to the level Apple promised.
Gurman's article goes into plenty more detail about what his sources say has gone wrong at Apple. With laptops representing around 10 percent of their total revenue, Jony Ive and others have shifted their focus elsewhere (except, of course, to make sure that new MacBook Pros come with the rose-gold option). There isn't even a dedicated Mac OS team anymore, with Mac OS engineers reassigned to iOS teams. Meanwhile, Apple management, instead of having the its laptop division focus on one singular project, now starts by offering up competing visions for what the next laptop should be, only to pick one toward the end of a development cycle and forcing everyone to rush something to market. Worst of all, Gurman hints that 2017 will see, at best, minor updates to the MacBook line (though, maybe, Apple will finally update its desktop iMac line).
After Apple's laptop rollout in late October, I asked: Is Apple giving up on making great computers? After all the stumbles of the new MacBook Pro and Apple's seeming indifference to its laptop division, it's fair to ask: Will Apple eventually just give up on making computers, period?