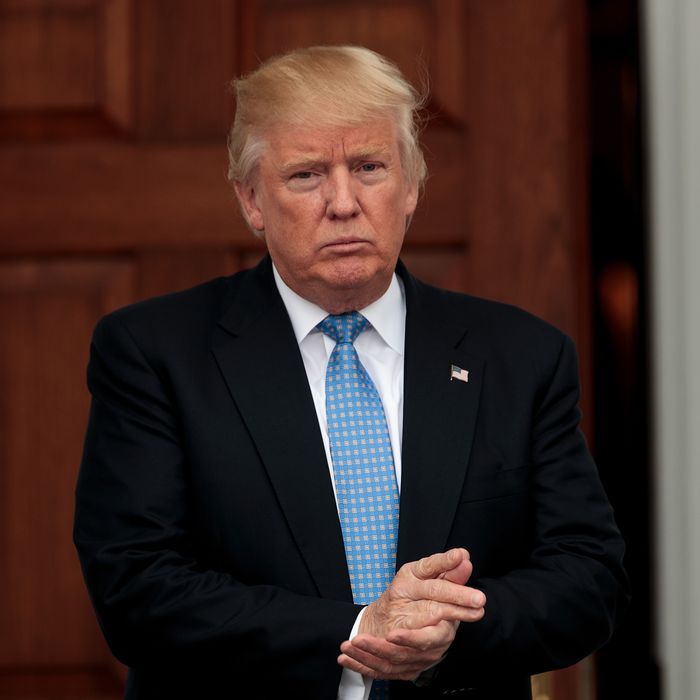 In over his head or budding neoconservative interventionist?
Photo: Drew Angerer/Getty Images
China has lodged an official diplomatic protest with the U.S. following an alarming and unprecedented phone call between President-elect Donald Trump and Taiwan's president, Tsai Ing-wen. The ten-minute call, which occurred on Friday, is believed to be the first by a U.S. president or president-elect with a Taiwanese leader since at least 1979, when the U.S. reopened diplomatic relations with China and broke them off with Taiwan. China considers the self-ruled Taiwan a breakaway province, and tensions between the Chinese and Taiwanese governments have worsened since Tsai, the leader of Taiwan's pro-independence political party, was elected president in January. As many have pointed out, Trump's call could have significant long-term ramifications for U.S.-Sino relations and risk a dangerous and destabilizing escalation of the conflict between China and Taiwan.
According to the Trump transition team and Taiwanese officials, Trump and Tsai congratulated each other about their election victories on the call and discussed the economic, political, and security ties between the U.S. and Taiwan. The current White House was apparently not made aware of the call until after it had happened, and the New York Times reports that China contacted the White House to register their concern afterwards, and that the White House subsequently affirmed that, from its perspective, America's "longstanding policy" with regards to China and Taiwan has not changed.
On Thursday, amidst earlier reports of seemingly irresponsible calls between President-elect Trump and world leaders, the White House gently suggested that Trump meet with current State Department officials for briefings prior to jumping on the phone with any more foreign governments. For instance, just about anyone at the State Department would know that Taiwan is widely considered to be the foreign-policy issue the Chinese government is most concerned about, and a potential war with Taiwan is a scenario that the Chinese military has devoted a lot of attention to.
At present, the relationship between the U.S. and Taiwan is only semi-official, but despite the lack of above-board diplomatic ties, the U.S. is Taiwan's most important ally as well as its arms supplier, including a $1.83 billion weapons sale a year ago. Officially and publicly, however, the U.S. has respected the "One China" policy — which is a requirement for any country that wants to maintain diplomatic relations with the People's Republic of China. That policy essentially means foreign governments agree that China and Taiwan represent one country, but two systems, and also agree not to have official diplomatic relations with Taiwan's leadership. As a result, the U.S. neither recognizes nor rejects China's sovereignty over Taiwan, while arming Taiwan so it can fend off China. And if this all seems like a contradictory arrangement, as The Atlantic's David A. Graham points out, welcome to international diplomacy:
The U.S. maintains a strong "unofficial" relationship with Taiwan, including providing it with "defensive" weapons, while also refusing to recognize its independence and pressuring Taiwanese leaders not to upset a fragile but functional status quo. It's the sort of fiction that is obvious to all involved, but on which diplomacy is built: All parties agree to believe in the fiction for the sake of getting along.
But while Trump is no stranger to believing in fictions, it remains unclear if he or his transition team understood the possible ramifications of Friday's call, or, assuming they did, that they intended for the call to signal a change in U.S. relations towards China and Taiwan. The Washington Post reports that the call was planned and "reflects the views of hard-line advisers urging Trump to take a tough opening line with China." But Bonnie Glaser, the director of the China Power Project at the Center for Strategic and International Studies, tells the Hill that she thinks Trump's glass is half empty and that he "does not really comprehend how sensitive Beijing is about this issue," adding that Trump's call has threatened the mutual respect that China's leadership sees as essential to stable relations with the U.S.
Responding to the same concern on CNN, senior Trump advisor Kellyanne Conway would only say that the president-elect was "well aware of what U.S. policy has been" with regards to Taiwan. She and others in the Trump camp also scoffed at the idea that a phone call with a foreign leader would ever signal some kind of "policy change," though anyone with a basic understanding of international relations would probably disagree about that. Furthermore, it's likely the Trump team additionally riled the Chinese by referring to Tsai as the president of Taiwan in their public statement regarding the call, another subtle but significant breach in protocol.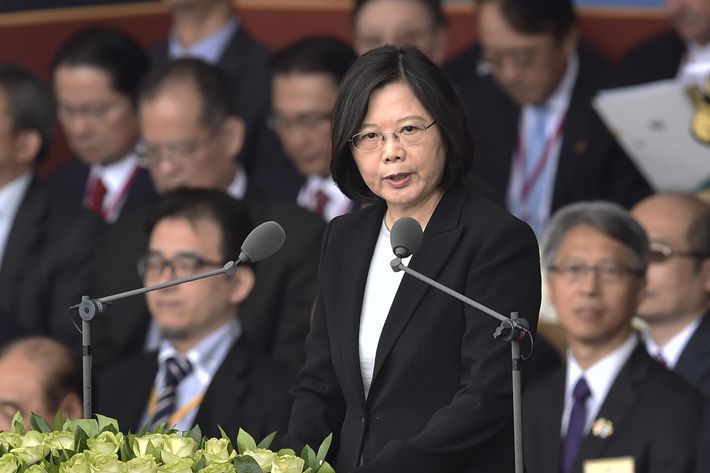 Not surprisingly, President-elect Trump also bristled at the negative attention to the call on Friday night, complaining on Twitter that "The President of Taiwan CALLED ME today to wish me congratulations on winning the Presidency. Thank you!" Trump also remarked that he found it "Interesting how the U.S. sells Taiwan billions of dollars of military equipment but I should not accept a congratulatory call."
Trump's assertion that Tsai just called him is disingenuous at best. The Washington Post reports that the call was planned in advance and Trump deliberately pursued it. From the other side, the Taipei Times reports that "Trump reportedly agreed to the call, which was arranged by Taiwan-friendly members of his campaign staff after his aides briefed him on issues regarding Taiwan and the situation in the Taiwan Strait, sources said."
As the Hill points out, some of Trump's advisors on Asia are indeed strongly pro-Taiwan. Peter Navarro, for instance, has called for a more pronounced U.S. backing of Taiwan in light of Tsai's victory last January and rising nationalism in the country. Former UN ambassador John Bolton, who is reportedly under consideration to be Trump's pick for secretary of State, also favors more aggressive U.S. support for Taiwan. And another pro-Taiwan Trump advisor (and former Cheney aide), Stephen Yates, was apparently visiting Taiwan at the time the call occurred, per the Post. Others in President George W. Bush's administration, like Bolton and Yates, had previously intended to wield relations with Taiwan in the power struggle with China, but the 9/11 terrorist attacks scrambled that and other foreign-policy goals for the Bush White House, while opening up other ones:

This is hardly the first time Trump himself has weighed in on China or Taiwan either. For years, Trump has consistently called China one of America's biggest adversaries, going so far as to label the country an "enemy" and "threat" to America, and suggesting the U.S. has "to get tough with China before they destroy us." Trump repeatedly attacked China during his presidential campaign as well, more or less promising to conduct a trade war with the country, and oft decrying the "abuse" that the U.S. suffers at the hands of China. Referring to currency-manipulation concerns at a political rally in May, Trump told a crowd, "We can't continue to allow China to rape our country. That's what they're doing. It's the greatest theft in the history of the world."

Regarding the conflict across the Taiwan Strait, Trump criticized President Obama in 2011 for opting against the sale of dozens of F-16 fighter jets to Taiwan. The Obama administration, wary of opening a diplomatic rift with China at the time, decided they would upgrade Taiwan's existing fleet of American-made warplanes instead. Trump said that Obama was sending the "wrong message" to China at the time.
Further complicating matters is yet another potential conflict of interest regarding Trump's family business: Earlier this month, it was reported that the Trump Organization has been considering getting involved in the Taiwanese real-estate market, though the company denies that, somewhat unconvincingly.
So far at least, China appears to be treading carefully around the issue of Trump's call, at least as it pertains to the future president. Wang Yi, the country's foreign minister, instead focused blame on Tsai's government and referred to the call as a kind of deceitful and petty act by Taiwan. He also insisted, "I also believe this will not change the One China policy upheld by the American government for many years." As Quartz explains, put another way, China is framing the call, at least to some extent , as Taiwan taking advantage of the inexperienced Trump. (And, of course, if China now believes America's next president is inexperienced and able to be manipulated, that's another troubling consequence of the call.)
Chinese state media is taking a slightly more provocative stance, as Reuters reports that the Global Times cautioned on Saturday that if Trump rejects the One China policy, the resulting crisis would probably occupy the majority of the new president's time. The Xinhua news agency added, in an English-language editorial, that "China and the United States are not destined rivals," but that China will only be a "cooperative partner" to Trump if he respects China's core interests, like with Taiwan.
Regarding what comes next, as with virtually all foreign affairs involving the future Trump presidency, that remains unclear, but many foreign-policy experts are seriously unnerved. In the original Financial Times story about the call, Evan Mederios, the former Asia director at the White House national-security council, warned of Cold War–like ramifications:
The Chinese leadership will see this as a highly provocative action, of historic proportions. Regardless if it was deliberate or accidental, this phone call will fundamentally change China's perceptions of Trump's strategic intentions for the negative. With this kind of move, Trump is setting a foundation of enduring mistrust and strategic competition for US-China relations.
Through a partisan lens, Democratic U.S. senator Chris Murphy took the conflict concerns up a notch:
Meanwhile at the Brookings Institute, Jeffrey A. Bader is a little less scared, albeit still alarmed:
The Chinese rarely overlook what they perceive a potential alteration in U.S. policy toward Taiwan. A look back at their conduct in 1995, when they undertook ballistic military exercises that threatened Taiwan in the wake of an unprecedented U.S. invitation to Taiwan's president to speak at Cornell University, illustrates the Chinese mindset. We may neither like nor admire this, but we cannot ignore it.

It is too soon to tell if the Chinese will overreact by taking steps against either Taiwan or American interests. So far, it would appear that cooler heads will prevail in Beijing. They seem to be blaming Taiwan's leadership, rather than publicly asserting that Trump or the United States was responsible. They may judge that they should show restraint in order to avoid rocking the boat too soon in their relationship with the incoming Trump administration. That is not an experiment, however, that Trump should have conducted.
Then again, Shen Dingli, a professor of international relations at Fudan University in Shanghai, contributed a more chilling analysis. Speaking with the New York Times, Shen didn't seem all that worried about Trump's behavior before he gets into the White House, but offered a succinct warning should such behavior continue from the Oval Office:
I would close our embassy in Washington and withdraw our diplomats. I would be perfectly happy to end the relationship. I don't know how you are then going to expect China to cooperate on Iran and North Korea and climate change. You are going to ask Taiwan for that?
Then again, President Trump could also continue to avoid official ties while quickly pushing major new arms sales, also per the Times:
Douglas H. Paal, a former director of the American Institute in Taiwan, which represents American interests there, said it would not be surprising if the United States sold arms to Taiwan early in the Trump administration. Beijing's reaction would depend on the price tag, the kinds of weapons sold and how the administration informed China of the sale, Mr. Paal said.
Taking another angle, the Diplomat's Ankit Panda argues that what happens next also depends how the story plays out in Taiwan, as President Tsai's political reputation will surely be bolstered. The Taiwanese media is already interpreting the Trump call as an indication of shifting policy:

If Trump's outreach is widely read in Taiwan as a signal that the United States will throw its full military might behind the island in the case of a unilateral declaration of independence, Beijing could take drastic action, including putting a freeze to high-level diplomacy with Washington or cutting off relations altogether. The situation is complicated, however, by the fact that the president-elect — not the current Obama administration — took the step of reaching out to Tsai, meaning retaliation might have to wait until Trump's inauguration in January to avoid mixed messages.
Panda additionally warns, "As I noted on election night, the Taiwan Strait is one of the geopolitical Flashpoints likeliest to see a major conflagration under a Trump presidency. Friday's phone call makes the 21st century's 'first' Taiwan crisis all the more likely."
Looking at this past week, or at the monthlong sample size of Trump's actions as president-elect, Taiwan might not be the only international crisis the U.S. could soon find itself in either.