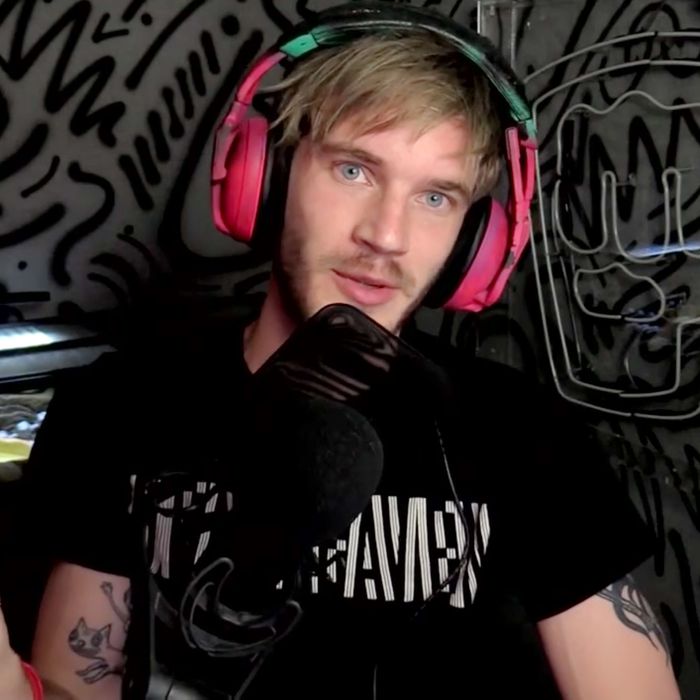 YouTube's most popular celebrity appears to be having a bit of a breakdown. PewDiePie, the Swedish vlogger (real name: Felix Kjellberg) famous for playing video games and making funny voices simultaneously, went after the video service in a heavily produced ten-minute rant posted last week. In it, Kjellberg threatened to delete his account, which is YouTube's most popular, once it reached 50 million subscribers. (It currently stands at around 49,800,000.) His main grievances stem from a number of product changes to YouTube, ostensibly the cause of his videos not performing as well as they used to.
Is he joking about deleting his account? Probably. PewDiePie makes millions of dollars each year off of his channel, and it's a good gimmick for building up suspense as he reaches the milestone.
At the same time, Kjellberg is rich as hell, and does seem to be struggling with something that many famous YouTubers deal with: the mental load of daily vlogging for years at a time. Maybe he does really want to get back to basics.
Earlier this week, a cherry-picked quote from the video showed Kjellberg claiming that his videos are being suppressed because he's white. This is, obviously, a very stupid thing to say. "I'm white. Can I make that comment? But I do think that's a problem [for YouTube's top brass]." Kjellberg theorizes that they'd rather have Canadian personality Lilly Singh (who is of Indian heritage) as the face of the brand. The 20 seconds of Kjellberg's ten-minute video were excerpted by U.K. outlet The Independent with the headline: "PewDiePie: YouTube may be 'killing' my channel because I'm white, so I'll delete it."
In a since-deleted tweet, Kjellberg claimed that the comment was sarcastic. There is little reason to believe that PewDiePie has become a white supremacist. Kjellberg's race comment is preceded by a good minute or so of Alex Jones–esque conspiracy theorizing — it's a put-on. And he has a history of making provocative comments: Earlier this year, Kjellberg's Twitter account was briefly suspended after he joked about joining ISIS. That Kjellberg is Swedish, far from America's racial divide, and spends more time than most reading the YouTube comments of his t(w)eenage fans would also explain why he'd toss out a comment that registers as "Gamergate Lite."
The threat to delete his channel is clearly just an attempt to force YouTube to look into product issues. It's not dissimilar to when Vine stars asked for millions of dollars to help save the platform. It would be embarrassing for YouTube to lose its biggest star, demoralizing to those lower down the totem pole hoping to achieve PewDiePie-like success. What Kjellberg is doing is playing a game of chicken that, in terms of monetary wealth and cultural cachet, he can afford to lose. Who will blink first? On Monday, Kjellberg said that he received word from YouTube that they were looking into things.