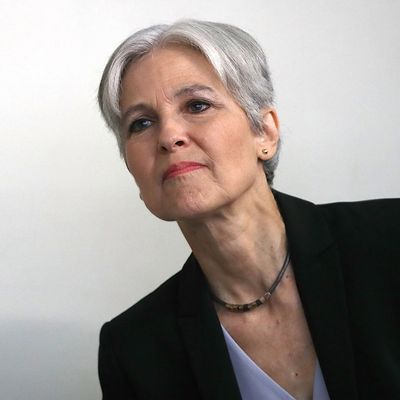 Jill Stein poses with everyone who thinks the recount could change the results of the election.
Photo: Win McNamee/Getty Images
A recount of 2.98 million presidential ballots began today in Wisconsin, the first of three states expected to audit vote totals after challenges by Green Party candidate Jill Stein. The recount, which cost Stein $3.5 million, must be completed by December 13 to satisfy Wisconsin law. That will force poll workers to count through nights and weekends to get to all the ballots, which gave the state to Donald Trump by 22,000 votes. The process would have been ever more difficult had Stein prevailed in her efforts to force the recount be done entirely by hand. But on Tuesday, a judge denied the request.
Election officials say their ability to use machines in the recount will speed up the process, but it's still going to be a challenge. That's why one county clerk went out of her way to make the process a little more comfortable with coffee, chocolate, and Christmas CDs "to make the atmosphere more festive."
Meanwhile, the recount in Michigan, where Trump won by 10,704 votes, is set to begin on Friday, barring a legal challenge from Trump. The job will be bigger than it is in Wisconsin. Michigan saw 4.8 million ballots cast and the recount in the state will be done entirely by hand.
According to one report, the task will get even harder after Trump files an objection to the recount, which is expected on Thursday. By law, that would delay the start of the recount by two business days as the Board of Canvassers hears Trump's argument. It the Board decides the recount should go ahead, it would begin next Tuesday.
In Pennsylvania, the other state in which Stein is hoping for a recount, a court hearing has been set for Monday to determine whether the recount should go ahead. A recount is automatically triggered in the state if a candidate wins by less than half a percentage point, but Trump's 71,000 vote margin gave him a victory of 1.11 percent. Absent the statewide recount, Pennsylvania does allow voters to ask for precinct-level recounts, which are undertaken when three voters in a given precinct petition for a recount.
Already, that has led to small recounts in the state, including in six Lehigh County districts where voting records from November 8 were reexamined on Wednesday. The recount turned up no discrepancies from the originally reported totals. Clinton did end up gaining three votes, but only because election officials found a few absentee ballots that weren't counted the first time.