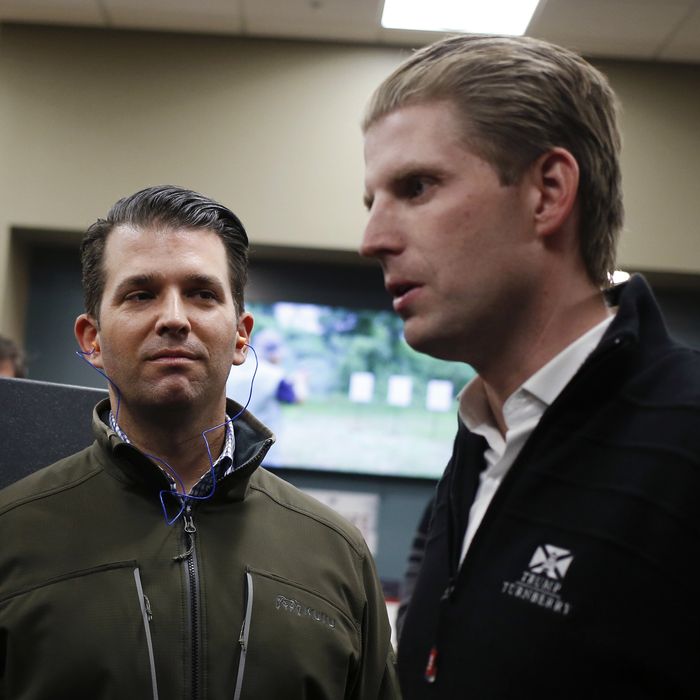 Donald Trump Jr. and Eric Trump.
Photo: Luke Sharrett/Bloomberg via Getty Images
Last week Donald Trump canceled a press conference at which he was set to explain how his business would be handled once he took office. He tweeted that his two adult sons, Donald Jr. and Eric, would manages his businesses and promised to explain more at another press conference "in the near future." It's unclear when this event will take place. In the meantime, it seems Trump has decided to address ethical concerns on a case-by-case basis, if there are sufficient complaints.
Just days after an auction to grab coffee with Ivanka Trump was canceled, the soon-to-be First Family is distancing itself from an inauguration event that raised similar ethical issues, but on a grander scale. Over the weekend, a brochure circulated for an "Opening Day" party on January 21, advertising that those who paid $1 million would get a private reception with the newly inaugurated President Trump, in addition to a multi-day hunting or fishing trip with Eric and Donald Jr. Proceeds would go to unspecified conservation charities.
On Tuesday, the Trumps pushed back, claiming that they had no knowledge of the event, though their names appear on Texas incorporation records for the nonprofit hosting the fundraiser. According to a statement from the Trump transition office:
The Opening Day event and details that have been reported are merely initial concepts that have not been approved or pursued by the Trump family. Donald Trump Jr. and Eric Trump are avid outdoorsmen and supporters of conservation efforts, which align with the goals of this event, however they are not involved in any capacity.
So why do the Texas records say that the Opening Day Foundation's board of directors consists of the Trump brothers and two top Trump campaign fundraisers, who are close friends of Donald Jr.? Eric told the New York Times that while his name appeared on a "draft" of the invitation, he had no role in the creation of the charity and would not attend the party.
Opening Day contradicted Trump's version of events. Tom Hicks Jr., one of the foundation's directors, told the Washington Post that Donald Jr. was involved in planning the event. "One of the important things for Don Jr. and Eric is conservation, and we wanted to help them organize a party to celebrate conservation," Hicks said. "After the president-elect won, we got focused on this. Don Jr. and Gentry have been spearheading it."
Event spokesman Mark Brinkerhoff said the Trump sons should not have been listed as directors of the nonprofit, but he told Bloomberg, "Eric and Donald Jr., who are honorary co-chairman, are invited guests and will be there." He said he could not confirm whether the president would attend.
A final version of the invitation was put out on Tuesday, and while Donald Jr. and Eric are listed as "honorary co-chairmen," other references to the future First Family have been removed — or possibly just obscured. The introduction says, "Opening Day is your opportunity to play a significant role as our family commemorates the inauguration of our father and friend, President Donald J. Trump." Now, for $1 million, attendees get a "private reception and photo opportunity for 16 guests with VIPs and celebrities associated with the event," but not President Trump specifically. They'll also receive a "multi-day outdoor excursion for four guests," but it won't be "with Donald Trump Jr. and/or Eric Trump, and team."
Brinkerhoff told the Post that the Opening Day Foundation is seeking IRS recognition as a 501(c)(3) charitable organization, but for now its activities will benefit the Montana-based Boone and Crockett Club Foundation. However, a spokesman for the club said the group was still "considering" whether it would participate in the fundraiser.
A transition official told the Times that the family had been focused on addressing conflicts of interest involving the Trump Organization, but in light of controversies over the Opening Day party and auctioning off a coffee date with Ivanka, they are turning their attention to how to handle fundraising for charities.
Bloomberg notes that it's common for top campaign donors to get access to the First Family during inauguration activities, but it would be unusual for them to participate in a post-inauguration fundraiser.
"It's not as though inaugurals were bastions of populism," said Danielle Brian, executive director of the Project on Government Oversight, a nonpartisan ethics watchdog. "In the past, I think candidates and politicians have been a little ashamed of the unseemliness of selling access. Now there's no longer anyone pretending that this is not what it is."
The are no clear rules on how the president's family members should handle fundraising activities. (They are barred from holding paid positions in federal agencies, but Trump may test that law for Jared Kushner, Ivanka's husband.) The last two presidents decided to set policies that discouraged or explicitly forbade family members from fundraising for charities, particularly when it involved selling access.
"We kept it simple. We did not allow the first family to be auctioned off, which is what is happening here," Norman Eisen, who served as White House chief ethics counselor under Obama, told the Associated Press.
As for the Trump family's current predicament, Eisen asked, "How many times are they going to have to stub their toe?" adding, "If you continually have to reverse course and improvise, what is the point at which it becomes a sign of recklessness instead of willingness to do good will?"