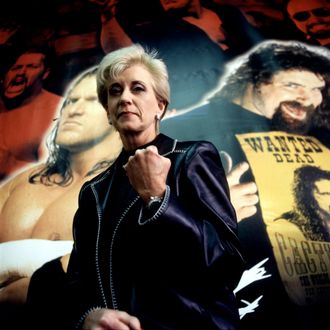 Tough.
Photo: Jean-Christian Bourcart/Getty Images
Linda McMahon, who founded the WWE with her husband Vince in 1980, will serve in Donald Trump's administration as the head of the Small Business Administration. In her role, the former WWE CEO and failed Senate candidate, will "bring back our jobs and roll back the burdensome regulations that are hurting our middle class," Trump said in statement.
McMahon was a prominent Trump supporter during the general election, even after calling his remarks about women "deplorable" during the Republican primary. She primarily expressed her support by writing checks to the Rebuilding America Now PAC, which received $6 million from McMahon in less than two months over the summer.
During her time at the WWE, McMahon stayed largely behind the scenes. But like Trump, who was once stunned by Stone Cold Steve Austin and is a member of the WWE Hall of Fame, McMahon has mixed it up on camera time or two. Here she is in 2003 getting tombstoned by Kane, who will probably be appointed as one of her deputies in the next few days.