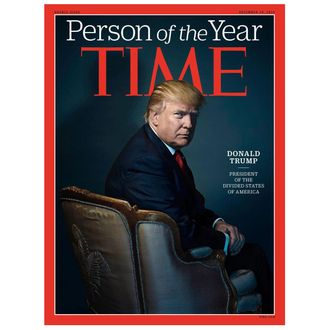 The competition to be named Time Magazine's Person of the Year ended on November 8. Maybe sooner. So there was little surprise Wednesday when the magazine gave the title to Donald Trump. The president-elect beat out a short list of nominees that included Beyoncé and whistleblowers who first drew attention to the water crisis in Flint, Michigan. And Hillary Clinton, who loses to Trump again.
On the Today show, Trump said the title is "a tremendous honor," even if it's not necessarily supposed to be taken that way. As Time notes, the title goes to "the person or persons who most affected the news and our lives, for good or ill, and embodied what was important about the year, for better or for worse."
This is the third time in four months Trump has appeared alone on the cover of Time. He probably wasn't as fond of the other two.