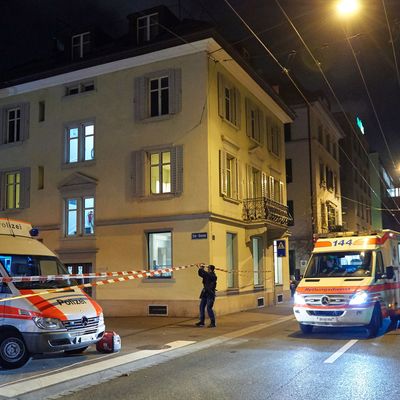 Ambulance and police cars are seen outside a Muslim prayer hall, central Zurich, on December 19, 2016, after three people were injured by gunfire.
Photo: Michael Buholzer/AFP/Getty Images
A gunman, dressed in black, burst into a mosque shortly after 5 p.m. Monday in Zurich, Switzerland, opening fire on a group of worshippers, mostly of Somalian and Eritrean descent. At least three men were injured, two seriously, but all are now in stable condition.
The suspect fled after the attack, but police said Tuesday that his body had been found under a bridge, only a few hundred meters from the mosque. The gunman, who was a 24-year-old Swiss citizen of Ghanian descent, appeared to have died from a self-inflicted gunshot wound.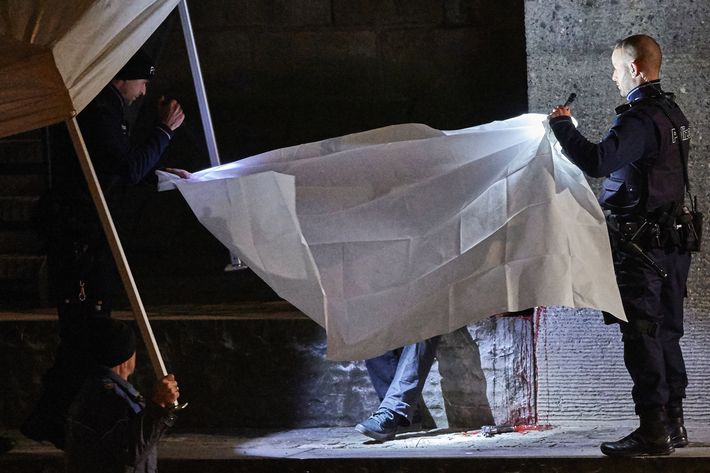 Authorities do not yet know the motive for the attack, but do not believe the gunman had ties to ISIS or another terror group, nor was motivated by Islamic extremism. Instead, Zurich police chief Christiane Lentjes Meili said the shooter appeared to have an interest in the occult, after "corresponding symbols have been found at his home."
Police had been searching for the mosque shooter prior to the attack because he was wanted for his ties to a separate fatal stabbing over the weekend. DNA evidence reportedly tied the gunman to the body of a 25-year-old Swiss man of South American descent who was knifed to death in a playground. The victim allegedly knew his killer; they were estranged acquaintances.
The man had been arrested as a teen for stealing a bike, but hadn't had any recent trouble with police. He had a permit for the firearm used in the mosque attack.