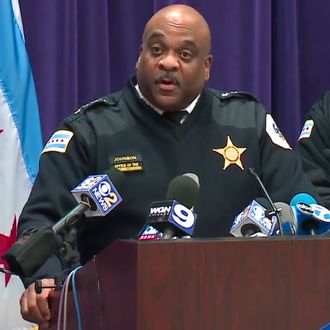 The video, posted on Facebook Live, is blurry, but in it a man huddles in the corner of a room. Two people enter the frame, severing the victim's sleeve with a knife. That victim, who is bound and gagged, is the focus of the video as his attackers move in and out of the frame. They punch him and shout slurs — "Fuck Donald Trump! Fuck white people!" — as a woman comments, sometimes laughs, outside of view. At one point, someone takes the knife again and slices the victim's scalp. (Warning: The video is very graphic.)
The victim is an 18-year-old mentally disabled man from Crystal Lake, Illinois. Four people, two men and two women, have been arrested and charged in connection to his apparent torture, which Chicago Police superintendent Eddie Johnson called "sickening." "It makes you wonder what would make individuals treat somebody like that," he said at a press conference about the incident. "I've been a cop for 28 years and I've seen things that you shouldn't see. It still amazes me how you still see things that you just shouldn't."
Authorities announced Thursday that all four of the alleged attackers will be charged with hate crimes, along with aggravated kidnapping, aggravated battery with a deadly weapon, and aggravated unlawful restraint, and residential burglary, reports the Chicago Tribune. Cops identified the accused as three 18-year-olds – Jordan Hill, Tesfaye Cooper, Brittany Covington; and one 24-year-old, Tanishia Covington. All were from the city of Chicago, except Hill, who was a classmate of the victim. (Hill was also charged with robbery and possession of a stolen vehicle.)
Before formal charges were filed, authorities had publicly mulled hate-crime charges because the attackers, who appear to be black, shout racially charged invectives at their victim, who is white. Chicago Police commander Kevin Duffin said investigators were trying to determine how "sincere" the attackers were in their taunts, and were also considering the fact that the man may have been targeted because of his disability.
Police discovered the video after spotting the victim, who has not been named, wandering around Tuesday the West Side of Chicago in shorts. His parents reported him missing Monday, after he disappeared after they dropped him off at McDonald's. The victim did know Hill from school; it's not clear, exactly, how he connected with the group of four people. At some point Hill allegedly robbed a van in a Chicago suburb, before he and the victim ended up at a home on the West Side of Chicago, where the group tormented him and filmed the video. One of the alleged kidnappers texted the victim's parents, saying that he was being held captive, according to the Chicago Tribune. Police, who are also considering kidnapping charges against the four, described the victim as "traumatized."
This post has been updated throughout.