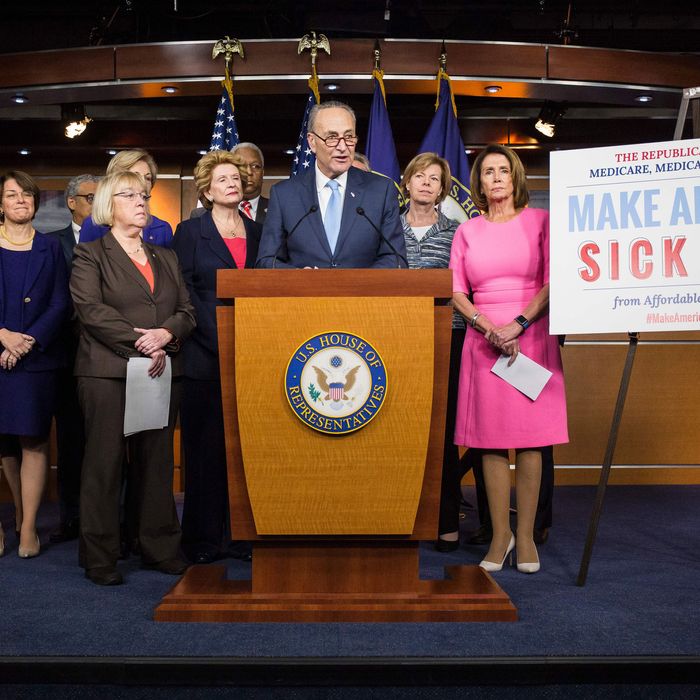 Democratic leaders in Congress defending Obamacare.
Photo: Zach Gibson/AFP/Getty Images
The Republican campaign to discredit the Affordable Care Act is a catastrophic success. Republicans have denounced the law for shortcomings that their own plans would all exacerbate, and have taken advantage of widespread confusion about what the law does and whom it benefits — a posture that works only as long as Republicans can avoid responsibility for the status quo. Democrats have the chance to defend and safeguard Obamacare's successes if they leverage this Republican vulnerability. In fact, they have four chances.
The next phase of the fight over American health care will be confusing. It will unfold over numerous votes and many months (or, more likely, years). But every strategy involves using the GOP's political weakness against it with the goal of getting the best possible outcome for the people helped by Obamacare.
1. Defeat repeal and delay. Republicans have a two-step plan. First, they will vote to defund Obamacare through a budget-reconciliation bill that can't be filibustered. Then their replacement plan will be voted on later.
The repeal vote is the easiest step in the Republican plan, but it's still not very easy. Republicans will repeal the law and delay the effects of the repeal for a long period (the most current reporting suggests three years). A vote to repeal Obamacare without clarity about its replacement will threaten massive chaos in the health-care market. Not only will millions of Americans lose their access to medical care but, even worse (from a Republican perspective), doctors, hospitals, and insurers will face the risk of massive losses. Several Republicans have threatened to oppose a bill that repeals Obamacare without simultaneously replacing it, and the party can only afford to lose two votes.
Last week, Senate Republicans started bleeding votes, as some half-dozen of their members indicated deep reservations about repeal-and-delay. GOP leaders yanked them back into line on a procedural vote by promising that the deadline for the real repeal vote could be extended. But there remains a real chance the repeal strategy could collapse at step one.
2. Negotiate for minimal changes. Republicans hope that defunding Obamacare on a delay will pressure Democrats into giving them cover for the kinds of unpopular changes Republicans want to make to the system — which means letting insurers sell skimpy plans, with lower subsidies, creating sky-high premiums and deductibles that leave medical coverage far less affordable to people who are either poor or sick. The expiration of the phase-out will be a cliff. Trump has said that he thinks he can force at least eight Democrats, which is the number his party needs to write a new health-care bill, to support his plan by convincing voters to blame them if Obamacare ends.
But this is preposterous. Voters always hold the governing party accountable for bad outcomes. Remember, many of the people who would lose their care voted for Trump and expect him to protect or even strengthen their insurance. Assuming repeal-and-delay passes, Democrats should treat it as if the Republican government has set off a time bomb that would blow up its majority.
Of course, expiration of Obamacare without any plan to replace it would create a humanitarian catastrophe as well. So if Republicans want to agree to some package of small fixes that preserves the law's main accomplishments, Democrats might take such a deal. Then, basically, Obamacare will have been rebranded as Trumpcare. A handful of hard-core anti-government ideologues on the right would howl. But, given that vanishingly few Republicans have any idea what Obamacare does, they could easily be convinced that Trumpcare is amazing, even if it is 95 percent the same as Obamacare.
3. Push for extension. Assuming steps one and two fail, and no deal can be struck, at some point, the deadline for Obamacare extension will approach, perhaps at the end of 2019. Republicans will not want to head into the 2020 elections having presided over a catastrophic failure, with news coverage of suffering, death, and failing hospitals and insurers. Trump would have broken his promise to replace Obamacare with a terrific alternative that takes care of everybody. Lobbyists for insurers, doctors, and hospitals will exert overwhelming pressure to simply extend Obamacare's deadline, which could be done by the same majority vote that "repealed" the law. The extensions would continue until Trump leaves office.
4. Repeal the repeal. If all the above steps fail, there is one final recourse. Assume Obamacare is repealed and no replacement emerges. (Or perhaps the "replacement" is a handful of hoary Republican measures, like Health Savings Accounts, that do little or nothing to cover people who can't afford insurance.) Either way, Democrats will have a clear path forward to undoing whatever Republicans do to their system. The disaster of repeal-without-replace could easily be broad enough to power the kind of anti-incumbent wave that produced the last Democratic majority, in 2006 and 2008. Possibly, Democrats will have to wait longer than until 2020 to regain their control of government.
But the legislative dynamic will have changed for good. It's important to recall that the filibuster is the reason health-care reform was out of reach for decades. Democrats could have passed health-care reform under Bill Clinton, or possibly earlier, if not for the Senate's 60-vote requirement. They finally overcame that threshold in 2009 by mustering 60 Senate votes. Republicans might defund their bill with 50 votes, but they won't have 60 votes to eliminate the insurance regulations it created. That means Democrats can pass reform again with only 50 Senate votes. That opportunity will come. And if Trump's government screws up badly enough, it will probably arrive sooner rather than later.