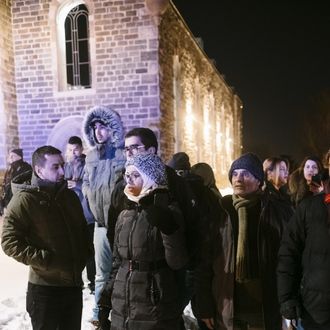 Photo: Anadolu Agency/Getty Images
A 27-year-old man with a history of posting right-wing comments online has been charged in the fatal shooting at a Quebec City mosque on Sunday night that left six people dead and 19 injured, including five critically.
Alexandre Bissonnette, an international-relations student from Quebec City, has been charged with six counts of murder for opening fire on a mosque during evening prayers. Two suspects were initially arrested after the attack, but authorities later cleared one man, Mohamed el Khadir, as a witness. Officials are now classifying this as a "lone wolf" attack.
According to the Globe and Mail, Bissonnette was known as a "right-wing troll" among local groups for his ultraconservative comments on social media. He openly expressed support for Marine Le Pen, of France's far-right Front National, and defended Donald Trump in online forums.
Local police initially declined to comment on what might have motivated the shooting, but Canadian prime minister Justin Trudeau released a statement calling it a terrorist attack. "We condemn this terrorist attack on Muslims in a center of worship and refuge. Muslim-Canadians are an important part of our national fabric, and these senseless acts have no place in our communities, cities, and country," Trudeau said. "It is heart-wrenching to see such senseless violence. Diversity is our strength, and religious tolerance is a value that we, as Canadians, hold dear."
The shooting occurred at the Islamic Cultural Center of Quebec just before 8 p.m., as evening prayers were concluding. "It seemed to me that they had a Québécois accent," a witness told the CBC. "They started to fire, and as they shot they yelled, 'Allahu akbar!' The bullets hit people who were praying. People who were praying lost their lives. A bullet passed right over my head. There were even kids. There was even a 3-year-old who was with his father."
"I can't believe it," said center president Mohamed Yangui, who wasn't at the mosque during the shooting. "We've never done anything to provoke anyone, and we've never cultivated hatred for anyone. I'm just beside myself."
Quebec premier Philippe Couillard and Quebec City mayor Régis Labeaume held a joint press conference to echo Trudeau's sentiment, with Couillard saying, "I want to say a few words to our Québécois compatriots of the Muslim confession. We're with you. You are home, you are welcome in your home. We're all Québécois." Couillard also said that he would increase the security presence at Quebec's mosques.
Over the summer, a pig's head was left on the center's doorstep. "We thought: 'Oh, they're isolated events.' We didn't take it seriously. But tonight, those isolated events, they take on a different scope," said a congregant who left the mosque prior to the attack. The shooting came shortly after Trudeau reaffirmed his commitment to welcoming "those fleeing persecution, terror, and war" in the wake of President Trump's ban on people from seven Muslim-majority countries and refugees in general.
President Trump phoned Trudeau Monday to offer his condolences and offered to provide assistance, if needed, reports the Hill.