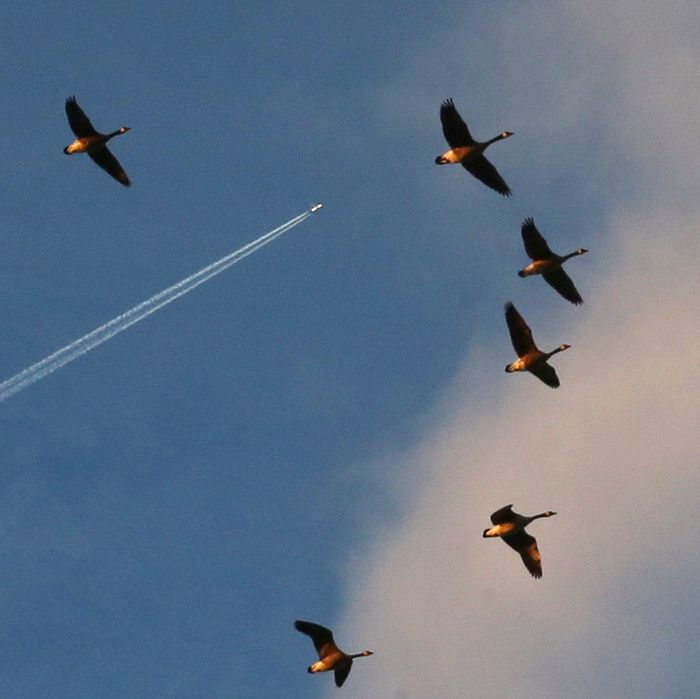 This plane is thankfully out of range.
Photo: Mark Wilson/Getty Images
Almost 70,000 birds have been culled at New York metro airports in the eight years since US Airways Flight 1549 was forced to make an emergency landing on the Hudson River after losing both its engines in a mid-air collision with a doomed flock of geese. That water landing was deftly handled by the plane's heroic captain, Chesley "Sully" Sullenberger, and as a result, none of the 155 people onboard the Airbus A320 were injured in the crash. The dramatic event became known as the "Miracle on the Hudson," and was eventually turned into a major film starring Tom Hanks.
But while all the humans, and most film critics, emerged from the incident unscathed, an Associated Press investigation has calculated the enormous avian death toll since Captain Sully's miracle on January 15, 2009. Following the crash, both Newark and LaGuardia — where Flight 1549 had just taken off from — subsequently ramped up their bird-killing programs in an effort to prevent future tragedies. As for Kennedy Airport, their total kill count has actually ticked down, but they already had, in the AP's words, "a robust slaughter program" prior to the US Airways crash since the airport sits on a major bird-migration route.
Possibly as a result of increased awareness about the bird-collision threat, bird-strike reports nearly doubled at LaGuardia and Newark in the six years following the crash — to nearly 300 a year. They went up at JFK, too, but most important, there have been no additional bird-related crashes since the "Miracle."
The price of that safety, however, has been some 28,000 seagulls, 16,800 European starlings, 6,000 brown-headed cowbirds, 4,500 mourning doves, and 1,830 Canada geese, as well as other species. Unsurprisingly, it's the larger bird species that typically represent the biggest threats to planes, such as the Canada geese that took down Flight 1549:
Most of the 70,000 birds were killed using shooting and trapping programs, but there are nonlethal ways of controlling bird populations, as well. New York airports make use of trap and relocation schemes, habitat modification, pyrotechnics, and even lasers to drive the birds away, and bird advocates are also pushing for improved radar systems to help mitigate the need for lethal programs, but aviation officials seem understandably content prioritizing human safety, regardless of the animal cost.