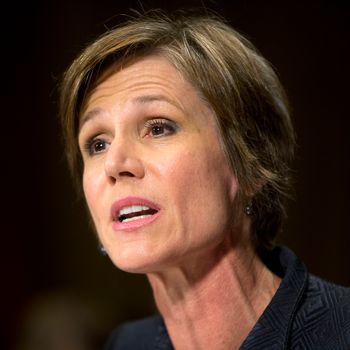 Sally Yates.
Photo: Pablo Martinez Monsivais/AP
Acting Attorney General Sally Yates was fired on Monday night shortly after ordering Justice Department lawyers not to enforce President Trump's executive order suspending immigration from seven Muslim-majority countries. Yates had said she was not convinced that the order was "legally defensible."
Several hours later, the White House said Yates, a holdover from the Obama administration, had been relieved of her duties. The president appointed Dana Boente, United States Attorney for the Eastern District of Virginia, to serve as acting attorney general until Senator Jeff Sessions is confirmed by the Senate.
The White House issued a statement saying Yates had "betrayed the Department of Justice" by refusing to enforce Trump's executive order. It also described her as an "Obama administration appointee who is weak on borders and very weak on illegal immigration."
The statement noted that the executive order was approved by the Justice Department's Office of Legal Counsel, but in a one-page letter to top lawyers at the Justice Department, Yates said that the review only considered whether the order was "lawful on its face and properly drafted." Yates argued that, as head of the department, she had a broader task.
"My responsibility is to ensure that the position of the Department of Justice is not only legally defensible, but is informed by our best view of what the law is after consideration of all the facts. In addition, I am responsible for ensuring that the positions we take in court remain consistent with this institution's solemn obligation to always seek justice and stand for what is right," Yates wrote.
"At present, I am not convinced that the defense of the Executive Order is consistent with these responsibilities, nor am I convinced that the Executive Order is lawful," she continued. "For as long as I am the Acting Attorney General, the Department of Justice will not present arguments in defense of the Executive Order, unless and until I become convinced that it is appropriate to do so."
President Trump initially responded to Yates's defiance by tweeting that he was forced to keep an Obama appointee as acting attorney general due to Democratic obstruction.
The chaotic implementation of Trump's immigration ban sparked anger even among members of Trump's cabinet. The Washington Post reports that Defense Secretary James Mattis and Homeland Security Secretary John Kelly "fumed privately" because they were caught off guard by the travel ban. Senate Majority Whip John Cornyn and Senate Foreign Relations Committee Chairman Bob Corker told reporters that they weren't briefed before Trump signed the order, and congressional aides said GOP lawmakers received little guidance as protests erupted at airports across the country.
Senator Marco Rubio said on Monday that the State Department was refusing to answer his questions about how the order would be implemented, though the White House denied that. More than 200 State Department employees have reportedly signed internal memos criticizing the order. White House press secretary Sean Spicer said State Department employees can "either get with the program or they can go."
Over the weekend, federal district courts in several states issued temporary stays blocking parts of the order from being implemented. On Monday, officials from Massachusetts and Washington said they would challenge the executive order in court.
White House senior adviser Stephen Miller, who reportedly drafted the executive order along with "chief strategist" Stephen Bannon, defended the order's legality in a Monday night appearance on MSNBC, saying, "The ability to exclude any class of would-be visitors or immigrants to our country [is] based on our national security interests."
Miller said Yates's move is "a further demonstration of how politicized our legal system has become," adding, "It's sad that our politics have become so politicized, that you have people refusing to enforce our laws."
Democrats praised Yates, and several lawmakers said the incident demonstrates why they're opposed to confirming Sessions as attorney general. The vote on Sessions could come as early as Tuesday.
Yates was asked during her confirmation hearing in 2015 if the attorney general has a responsibility to say no if the president asks them to implement a policy they believe is improper. She said she believes the attorney general has "an obligation to follow the law and the Constitution and to give their independent legal advice to the president." Ironically, the senator pressing Yates was Sessions.
Yates's firing drew comparisons to the 1973 "Saturday Night Massacre," in which President Nixon's attorney general and deputy attorney general resigned after refusing to carry out the president's order to fire Archibald Cox, the special prosecutor in the Watergate case. While a federal judge ruled that it was illegal for Nixon to have Cox dismissed, it is legal for President Trump to fire the acting attorney general.
Another difference: It doesn't look like there will be any more firings tonight. Boente is a 31-year veteran of the Justice Department who is known for handling public corruption cases. Several colleagues told the Washington Post that they don't know his political affiliation, but they're sure he would not uphold the executive order unless he believed it to be legally sound.
"I was enforcing it this afternoon," Boente told the Post. "Our career department employees were defending the action in court, and I expect that's what they'll do tomorrow, appropriately and properly."
This post has been updated throughout.