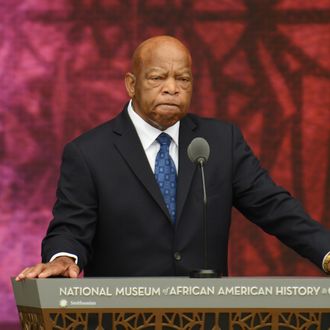 Representative John Lewis.
Photo: Astrid Riecken/Getty Images
For weeks the controversy surrounding Donald Trump's inauguration has mostly focused on the performers who refuse to participate, but now a sizable number of lawmakers are skipping the event too. After Trump spent the Martin Luther King Jr. Day weekend feuding with Representative John Lewis, a civil-rights icon, at least two dozen Democratic lawmakers have announced that they are boycotting the inauguration.
Lewis started the feud in an interview released Friday, telling Meet the Press that he doesn't consider Trump a "legitimate president." "I think the Russians participated in helping this man get elected. And they helped destroy the candidacy of Hillary Clinton," Lewis said.
Lewis also said that he would be skipping the inauguration for the first time in his three-decade congressional career. "You cannot be at home with something that you feel that is wrong, is not right," he said.
Trump's attack drew a harsh backlash, particularly from African-Americans. Lewis's district includes most of Atlanta, and several metrics show the city is not in "horrible shape."
Some Democrats had already announced that they wouldn't attend Trump's inauguration, but the number increased significantly over the weekend, with many citing Lewis in their explanation.
By the Daily News' count, 26 Democratic representatives are boycotting Friday's inauguration. Lawmakers usually attend the inauguration, regardless of which party won, and Bill and Hillary Clinton are planning to be there.
Senate Minority Leader Chuck Schumer tweeted that he'll "always stand by my friend, American hero" John Lewis, but he did not respond to the Daily News when asked if that has any bearing on the inauguration. So far, no senators have joined the boycott.