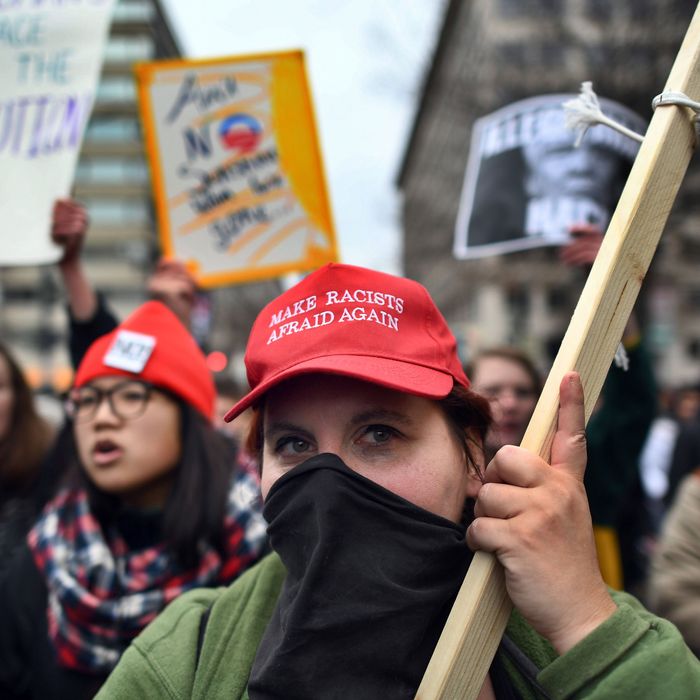 "Make racists afraid again."
Photo: Jewel Samad/AFP/Getty Images
Protesters clogged the streets of Washington, D.C., early Friday morning in an attempt to block access to the National Mall. The blockades of Mall entrances had separate themes, including Black Lives Matter and LGBT rights. The latter functioned both as a protest and a dance party where protesters were "waving rainbow flags, blasting music, dancing, waving homemade signs, and sprinkling glitter in their wake," ThinkProgress reports.
Daily Intelligencer captured some of the action:
Protesters and Trump supporters appeared to remain largely civil. There were exceptions though, including one top-hat-related altercation.
Some chained themselves together in front of Trump supporters including Ohio's Michael Henning, who told the Washington Post that he'd "be happy if they just dropped a bomb on" the demonstrators.
As the morning went on and the National Mall filled with those prepared to celebrate, protests in the streets around the Capitol intensified. At around 10:30, the Post reports, crowds dressed in black, with their faces covered, began smashing windows and throwing garbage cans into the streets.
At one point, a Starbucks full of employees and customers had its windows broken. The Bank of America next door suffered the same fate. Branches of Wells Fargo and United Banks were also smashed, along with a McDonald's and various car windows.
Reporters on the street amid the protests said these actions drew a swift response from police, who pepper-sprayed protesters and set off flash-bang grenades while pushing everyone together into a group.
The group was then detained as media and others not involved in the protest were moved behind police tape.
Eventually, police began leading protesters away in zip ties. One, however, was taken away on a stretcher.