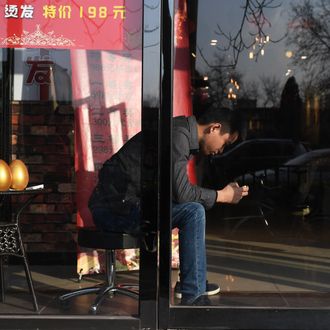 Photo: Greg Baker/AFP/Getty Images
Apple has removed the mobile app of the New York Times from its Chinese app store, according to the paper. Both the Chinese- and English-language apps were taken down shortly before Christmas, without warning. The Times' Chinese bureau was not informed of the decision, and an Apple spokesperson decline to comment to the paper about what regulations were violated.
The Chinese government's Cyberspace Administration is primarily responsible for filtering internet traffic within the country and that which travels in and out of the country. The barrier has come to be known as the Great Firewall of China. In recent weeks, the Times has published stories about iPhone manufacturing in China and related subsidies provided by the government.
This is not particularly surprising. As an enormous international business, Apple has stated that it aims to comply with international laws, and reconcile differences where they may apply. But without knowing what regulations they supposedly violated, the Times has little recourse for getting reinstated. Should Apple continue to remove apps at the request of the Chinese government, the company looks complicit in the wide-scale censorship already in place.
This latest go-round is another clear example of the danger news organizations face in publishing their work on someone else's platform. At the end of the day, they can't exercise full control over their own content, leaving them at the whims of aggressive takedown measures that companies with financial interests will capitulate to.