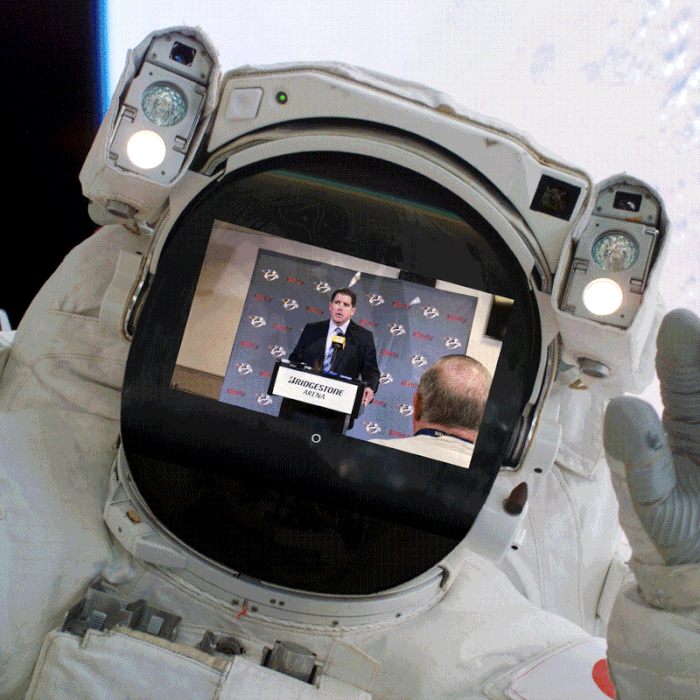 The joy of endless YouTube snippets.
Photo-Illustration: Getty Images
Early this morning, I stumbled across a link to Astronaut.io on Hacker News. Twenty minutes later, I was still transfixed — I had no other open tabs, was barely paying attention to Slack or email, just sitting and watching a single website without pause. Compared to my normal internet browsing habits, this was the equivalent of reading War and Peace in one sitting.
The idea of Astronaut.io idea is simple: The website hunts through almost completely unseen and unfound YouTube videos. As the creators of the project, San Francisco–based tech workers Andrew Wong and James Thompson, put it on the splash page for the site:
Today, you are an Astronaut. You are floating in inner space 100 miles above the surface of Earth. You peer through your window and this is what you see. You are people watching. These are fleeting moments.

These videos come from YouTube. They were uploaded in the last week and have titles like DSC 1234 and IMG 4321. They have almost zero previous views. They are unnamed, unedited, and unseen by anyone but YOU.

The Astronaut video stream starts when you press GO. Videos change periodically. If you wish to linger, tap the button.

The site cycles these never-meant-to-be-discovered videos every five to eight seconds, popping from a group of kids showing off cartwheels to an elderly woman laughing hysterically at something we'll never see. Unlike so much of what I find on the internet, it left me feeling somehow more connected — or at least somehow less solitary, even as I was just drinking coffee and watching a fleeting video of a toddler chasing a dog around a front lawn somewhere in Germany, before seeing a shot from someone's wedding in India. "One of the great things Astronaut.io does it is immediately immerses you into the next video," says Wong. "It's like walking the down the street — there's no artificial transition between the two scenes."
Unlike the Jacob Sartoriouses or PewDiePie's of the world, these videos are aggressively unedited, never meant for mass consumption (nobody who is trying to go viral names their video "DSC 3478"). "When we started, it was sort of an anti-effort towards the algorithmic approach that we were seeing," says Thompson. "There were all these sites surfacing the most viral videos. We were like: What can we make that's the antithesis to that approach? That was much more human and much more connected to people?"
I've got Astronaut.io going in a second window as I type this, looking over at it periodically while I work. What strikes me most as I watch the videos cycle through is how happy most of the people in these videos are. Pulling out a smartphone for taking a quick video has come to replace the disposable camera as the thing we do during our moments of simple and fleeting joy. "In just five seconds," says Thompson,"I find myself incredibly invested in these people's stories."
So you see someone showing off a new Gibson electric guitar. Five seconds of someone playing pickup basketball. A French bulldog standing on a table. A bit of a Quebecois jazz band playing. Someone swimming the breaststroke in a public pool. A preacher asking if we've taken all our gifts into account. Someone carefully tearing fresh basil over a homemade pizza. A very out-of-focus shot of a lion taken on safari. A father and mother whispering "Good morning baby, you cheeky monkey" to their infant. A close-up of a pair of frozen-over Truck Nutz. A small cat wearing a knit vest jumping out into the snow. A man performing tai chi in a backyard. A woman staring into the camera, asking how the viewer is doing, and that it's been raining here a lot — but she likes the rain.
The internet is a place that often rewards the shocking, the sad, the rage-inducing — or the nakedly ambitious and attention-seeking. A morning of watching Astronaut.io is an antidote to all that.
It's an aleatoric overview of the normal, ordinary, and prosaic. It's a reminder that our best moments are often small, quotidian moments with friends and family — whether they're uploaded or not. "This isn't a bunch of security-camera feeds," says Wong. "It's not inhuman. I'm currently traveling, and when I look through my videos, there's a reason I wanted to shoot those videos. All my videos are of great moments with my family. And Astronaut.io is the same kind of warm and friendly feed."