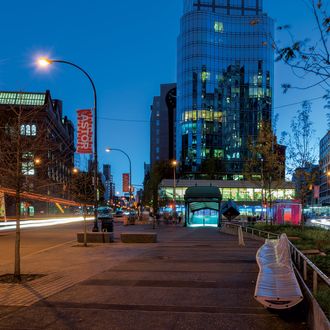 Astor Place, the view south.
Photo: Wade Zimmerman/Courtesy of WXY Studio
When was the heyday of Astor Place? In 1847, when an impresario gratified New York's cultural pretensions by erecting its grandest opera house and opening it with an authentically Italian cast singing Verdi's nearly new Ernani? Two years later, when patriotic populism stirred a crowd of protesters to try chasing off the English actor William Macready? In 1860, when the Republican candidate for president (Abraham Lincoln) electrified a skeptical audience in a speech at Cooper Union? Was it when the Third Avenue el clattered through in the 1870s, or after it was taken down in the 1950s, and sunlight streamed in over the low buildings? Or later, when for a couple of bucks you could buy a used Clash LP at the flea market in front of the parking lot?
Few open areas of the city have changed identity as regularly as Astor Place and adjoining Cooper Square, so every generation has its grumblers who remember the way they used to be. Now, after several years of construction on the knot of streets and plazas, the fences have been peeled away like bandages, leaving a broad and orderly plain designed by the New York architecture firm WXY. New curbs confine traffic to sensible channels rather than let it slosh across a delta of conflicting lanes. Sidewalks have been broadened into pedestrian boulevards. Astor Place in 2017 feels like fresh turf waiting to receive its next deposit of history. The young techies and skateboarders and students who swirl through these days know only its current, amiably deluxe incarnation, a symphony in metal and glass: Fukihiko Maki's office building, as glossy and black as a Steinway grand; Charles Gwathmey's amoeboid turquoise tower on the south side of the square; Thom Mayne's self-deconstructing Cooper Union academic center; and, farther downtown, the starchy white Standard East Village hotel. If there are older habitués who still remember the neighborhood's corral of dilapidated buildings, they are vastly outnumbered by the callow throngs. Even the scattering of saplings and Piet Oudolf's still-fragile plantings in their new beds seem to sing of youth.
In this amnesiac corner of a nostalgic city, memory is preserved in architectural artifacts. A strip in the sidewalk marks the direction of now-erased Stuyvesant Street, and a stand of mosaic-covered poles recalls the Astor Place of a generation ago. In the 1980s, a Vietnam vet named Jim Power exorcised his demons by encrusting lampposts with little tiles, turning steel poles into colorful monuments to local heroes and landmarks. Mayor Rudolph Giuliani decreed them to be vandalism and ordered most of them ripped out, but a corps of activist residents defended the lampposts as guerrilla street art. In today's Astor Place, they are something else: survivors and relics. Carefully removed before construction, restored, and now returned, they stand as glittery witnesses of a more freewheeling time. (Just try adorning several dozen utility poles without authorization in today's Manhattan: You'd be courting a swat-team intervention.) Power's totems are not the first bit of wistful artifice to enter the square. The gracious subway kiosk in the middle may look like it's been there since the IRT opened in 1904; actually, it's a 1986 reproduction.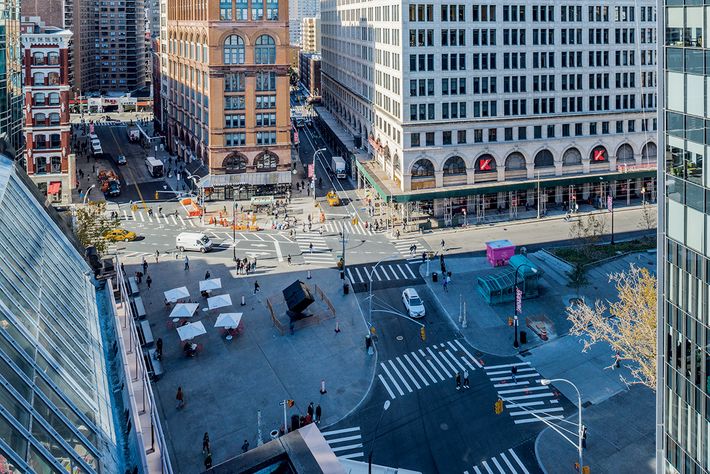 Cooper Square is not a square, and Astor Place is not a piazza but a two-block thoroughfare that the redesign has truncated to one, running from Broadway to Lafayette Street. The wide, busy triangle has no name: It's just a haphazard clearing formed by the intersection of angled streets. In the mid–19th century, this was a border zone between two vastly different worlds: one patrician and decorous, the other rowdy and poor. In his book The Shakespeare Riots, Nigel Cliff describes the polar contrast between genteel Broadway and the Bowery, that boulevard of penny-ante hustles. On Bowery, he writes, "Flames smelling of turpentine illuminated glass signs advertising cockpits, rat-baiting arenas, boxing rings, dime museums, bowling alleys, and gambling dens, together with scores of taverns and beer gardens, some of which served firewater through a rubber tube straight from the barrel at three cents a gulp."
Even as recently as a couple of decades ago, this area formed a junction of classes and lifestyles. Ukrainians wandered in from the borscht and pierogi joints on Second Avenue, squatters and punks from Tompkins Square Park and Alphabet City; addicts and alcoholics drifted up from the Bowery. At Astor Place, they met clean-cut newcomers, NYU professors, and aging hippies, along with the new wave of West Village bankers on their weekend slumming excursions.
The triangle no longer has that souk­like vibe, and no amount of street design can bring it back, but, with a combination of modesty and flair, WXY has literally paved the way for the next iteration. The architects have sprinkled the plaza with an assortment of seating options: stone steps, a few handsome granite blocks, and several of the firm's signature "zipper benches," which look like solidified sound waves that have alighted on the asphalt. But most of the design inhabits a thin plane between the heavy-duty surgery belowground and the evolving architecture above. Streets and plazas depend on details that slip underfoot, unnoticed. New sinuous edges enclosing the old Peter Cooper Park, porous pavers that keep rainwater from pooling, strategically placed soil beds that draw and store storm water, preventing the streets from turning into cataracts — unless you're a road-design junkie, these operate at the subliminal level, which is precisely the point. Claire Weisz, WXY's co-founder, has used what she calls a "DoT palette," materials plain and tough enough to satisfy the Department of Transportation, which means that rather than having the sleek preciousness of a corporate plaza, Astor Place and Cooper Square look like what they are: city streets.
This is distinguished, if self-effacing, public design. The complex of new plazas sets off the existing structures. Tony Rosenthal's Alamo is back where it was last seen in 2014, only now the big black cube balances en pointe on a broad plaza rather than a traffic-ringed reef. Mayne's molting battleship looks newly impressive from vantage points that no longer sit in the middle of traffic. The ornate subway entrance, too, has acquired a fresh old-­fashioned graciousness. But the longevity of WXY's design will depend on how it shapes the future, not how it frames the past. The new pedestrian areas are ample enough — a full acre, all told — that they could (but do not yet) accommodate several competing outdoor cafés, a farmers' market, a political rally, craft kiosks, and pop-up pavilions designed by Cooper Union's architecture students. The design is a blackboard full of possibilities, and it is up to those who inhabit it to chalk the next chapter onto its waiting surface.
*This article appears in the January 9, 2017, issue of New York Magazine.