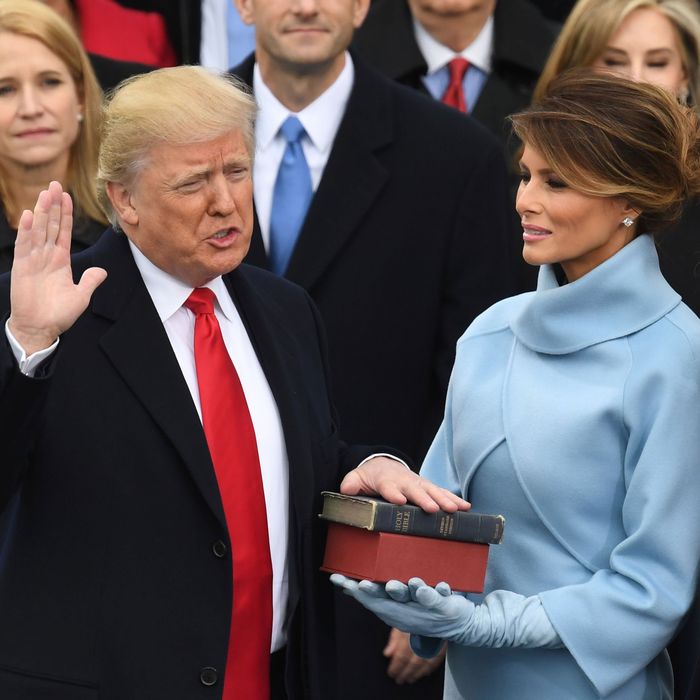 Donald and Melania Trump.
Photo: MARK RALSTON/AFP/Getty Images
Donald Trump was sworn in today as the 45th president of the United States. And, since our newly minted leader is so fond of the platform, it seems only right that we document the day in tweets. Without further ado, here's 2017's Inauguration Day in 140 characters or fewer.
Before taking the oath of office, Donald Trump and his wife, Melania, were welcomed into the White House by Barack and Michelle Obama. The Trumps brought a gift. Photos were taken. Pained smiles all around.
Fashion, of course, played a role in the day. There was Melania's Jackie Kennedy–esque ensemble.
Bernie Sanders and George W. Bush both went the utilitarian-chic route.
While Kellyanne Conway opted for a patriotic salute to London — sorry, the United States.
Meanwhile, back at the National Mall, a small crowd gathered to watch the event. Emphasis on small. While 1,800,000 people turned out for Obama's inauguration in 2009, only an estimated 250,000 were at Trump's ceremony today.
Hillary and Bill Clinton were in attendance.
As was Rick Perry, chewing gum.
And the weather forecast was grim, though the rain would hold off for most of the event.
The event began. Prayers were said. And more prayers. And after that, even more prayers.
As Trump was being sworn in, he officially took ownership of the @POTUS Twitter account. A transition which wasn't without its drama.
Trump gave his inaugural address. High points included a charmingly gory line about the color of American blood and a line snatched straight from Bane's monologue in 2012's The Dark Knight Rises.
And then the ceremony was complete. Donald Trump and his family headed off to watch the new president's first officials act: A signing ceremony involving 900 different pens.
Let the @POTUS tweets begin.