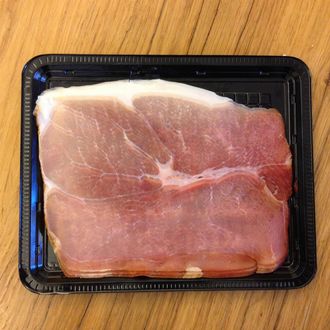 The ham in question.
Photo: MelvinDickpictweet/Reddit
Fresh off the heels of Reddit and the Case of the Missing Legs, today's optical illusion also comes courtesy of Reddit. Today, the internet's finest are discussing a picture of a package of sliced ham. Yes, really.
The ham in the picture, as noted by the original poster /u/MelvinDickpictweet (again, yes, really) appears blurry at first glance. Except it's not. The photo is fully in focus. Instead, the semi-translucent layers of thinly sliced ham appear blurry. Stare at it. Take it in. If you really want the full effect, zoom your screen in to about 200 percent. Then count the seconds until you either feel dizzy or decide to go make yourself a sandwich.