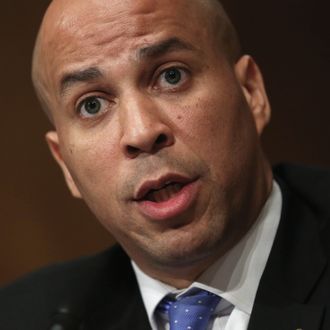 Cory Booker.
Photo: Alex Wong/Getty Images
Several high-profile figures have already come out against Senator Jeff Sessions's nomination for attorney general, and last week the national president of the NAACP was arrested while protesting Donald Trump's nomination of the Alabama senator. Now, in an unprecedented move, one of Sessions's Senate colleagues is testifying against him at his confirmation hearing. Three members of the Congressional Black Caucus have been added to the list of people testifying at Sessions's hearing, including Senator Cory Booker.
"I do not take lightly the decision to testify against a Senate colleague," Booker said in a statement. "But the immense powers of the attorney general combined with the deeply troubling views of this nominee is a call to conscience."
The New Jersey senator's office said the Senate historian could not find any previous instance of a senator testifying against a colleague nominated for a Cabinet position.
California Senator Dianne Feinstein, the top Democrat on the Judiciary Committee, told Politico that the three lawmakers — Booker, Representative John Lewis, a civil rights icon, and Representative Cedric Richmond, chairman of the Congressional Black Caucus — asked her to let them speak at the hearing on Sessions, which is scheduled for Tuesday and Wednesday. She went to chairman Chuck Grassley, who agreed to let them testify, but only if they appear after outside witnesses testify.
Democrats are miffed, since members of Congress are usually allowed to testify before non-members; they believe Republicans are trying to bury the high-profile opposition to Sessions.
"Asking three members of Congress to sit and wait until the end of the hearing to testify — likely at the same time the Senate will be holding important budget votes — is deeply unfair," Feinstein said. "These members offer a very important perspective and they deserve to be heard."
However, Grassley spokeswoman Beth Levine said letting the lawmakers speak first was "unacceptable." "A members-only panel that could have preceded even Senator Sessions, simply to satisfy an ideological perspective, was unacceptable to Senator Grassley," Levine said. "Instead, a third panel, with both supporters and opponents, has been added to the hearing following the panel of citizens on Wednesday afternoon."
There is a long list of reasons why Democrats do not want Sessions to helm the Justice Department — from his resistance to expanding LGBT rights to his opposition to medical marijuana — and senators say they plan to raise a broad range of topics at the hearing.
But the biggest issue facing the senator is accusations of racism. The Senate denied Sessions a federal judgeship in 1986 after former colleagues claimed he made racist remarks while serving as U.S. attorney in Alabama. Opponents also point to his criticism of the Voting Rights Act, and his decision to pursue voter-fraud charges against activists registering black voters in 1985.
"We've seen Jeff Sessions — that's Senator Jeff Sessions — consistently voting against or speaking out against key ideals of the Voting Rights Act, taking measures to try to block criminal justice reform," Booker said Monday night on MSNBC. "He has a posture and a positioning that I think represent a real danger to our country."
Anticipating the criticism of Sessions's history on race, Republicans lined up some well-known defenders. Senator Tim Scott, the only black Republican in the Senate, said on Monday evening that after talking with Sessions and researching his record, he's endorsing him for attorney general. CNN reported that former secretary of State Condoleezza Rice sent a letter to Grassley backing Sessions, calling him "a man who is committed to justice and knows that law and order are necessary to guarantee freedom and liberty."