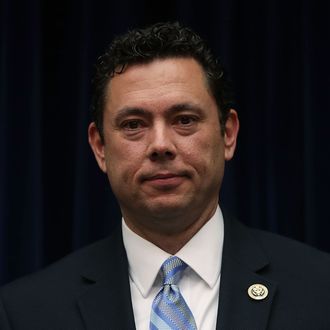 Shaub is distracting Chaffetz from his ongoing probe into Hillary's emails.
Photo: Alex Wong/Getty Images
Just after the Access Hollywood video was released, Representative Jason Chaffetz unendorsed Donald Trump, saying, "I'm not going to put my good name and reputation, and my family behind Donald Trump for President when he acts like this. I just can't do it."
But once the whole grab-'em-by-the-pussy thing started to blow over, Chaffetz decided that he actually could bring himself to vote Trump.
Still, Chaffetz stressed, he would not compromise his morals by defending Trump's behavior. Earlier this week, he declared that, as chairman of the House Oversight committee, "My job in this role is not to protect or be a cheerleader for the president. It's just not. I'm not here to defend him at every turn."
So how did Chaffetz respond to Trump's widely panned plan for handling his business while in office? By praising the president-elect and issuing veiled threats against a federal ethics watchdog who dared to publicly criticize him.
Chaffetz believes that by letting his sons run his business, Trump is "going to great lengths to be as responsible as possible and comply" with the law. Ethics lawyers from both parties disagreed, and Walter Shaub, director of the Office of Government Ethics, an independent federal watchdog, took the extraordinary step of delivering a press conference to lay out the problems with Trump's plan.
On Thursday, Chaffetz threatened to subpoena Shaub, then issued a letter asking him to meet with lawmakers for a deposition-like interview, according to the Washington Post.
"He seems to be acting prematurely at best, without doing investigations or thorough looks," Chaffetz told Politico. "He's rendering opinions publicly that really cause you to scratch your head. We need the Office of Government Ethics to act ethically. Ironically, that's not what they're doing."
More specifically, Chaffetz was upset that Shaub was publicly bashing Trump when his job is to aid the president:
What they're supposed to do is help work with somebody to comply with the ethics requirements. But when you talk publicly about private conversations, that's not ethical. And when you refuse to come in and talk to the committee when you're doing reauthorization, when you start tweeting and issuing press statements on things you never looked at, that shouldn't be the case at all.
Shaub's blistering criticisms of the president-elect were widely reported, but he actually framed his statement as an offer to help him resolve potential conflicts of interest, saying that protecting the president is his job. Shaub didn't publicly discuss private conversations with the Trump team, because they never consulted him. Shaub didn't have the opportunity to examine the details on Trump's business plan because Trump wouldn't release any of the documents, even though he displayed a huge stack of folders at his press conference.
Chaffetz's issues with Shaub pre-date Trump. In 2015, Shaub argued that Hillary Clinton's financial disclosure reports did not need to include paid speeches given by Bill Clinton if the speaking fees went to the Clinton Foundation. Other ethics experts disagreed, and during a hearing Chaffetz and Shaub argued over whether the information, which the Clintons eventually released, should have been included.
The New York Times reports that in his letter Chaffetz noted that the House Oversight Committee has jurisdiction over the Office of Government Ethics, which was viewed as a suggestion that he might shut the office down. Shaub is serving a five-year term that ends in 2018.
"They are strong-arming them," said Richard Painter, who served as an ethics lawyer during the George W. Bush administration. "They are obviously very upset the Office of Government Ethics is leaning on Trump and not willing to jam through his nominees. It is political retaliation."
Democrats are pushing for Shaub to meet with Chaffetz and other lawmakers in an open hearing, which would give him the opportunity to publicly air his concerns about Trump's business arrangement once again.
"I believe it is imperative that Director Schaub be permitted to testify in public — before the American people — to avoid any perception that he is being unfairly targeted behind closed doors for expressing his views," Representative Elijah Cummings wrote in a letter to Chaffetz.
Chaffetz essentially ignored calls from Cummings and other lawmakers to open an investigation into Trump's finances, so he probably won't be swayed by this latest missive.