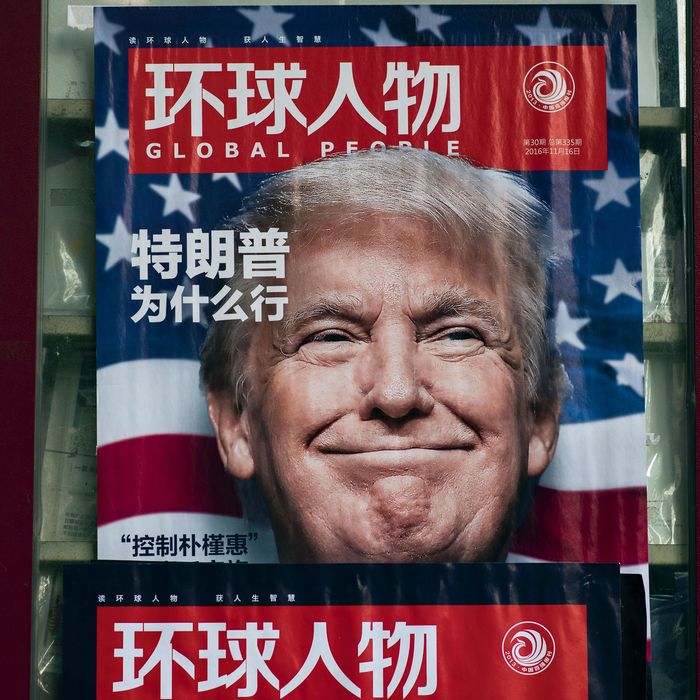 China would like Trump to delete his account.
Photo: Johannes Eisele/AFP/Getty Images
Donald Trump has spent much of his time as president-elect writing needlessly provocative tweets and inflaming diplomatic tensions with China — at various points, he's executed both these tasks at once.
Trump first invited Beijing's ire by accepting a phone call from the president of Taiwan. Since 1979, a cornerstone of U.S.–Sino relations has been America's acceptance of the "One China Policy" — a doctrine that prohibits the recognition of Taiwan as an independent state. By directly communicating with (the pro-independence) president of the island, Trump signaled his disrespect for that policy. Later, Trump confirmed that disrespect, telling Fox News that he felt no compulsion to honor the policy unless China accedes to his demands on trade.
After Trump's first affront, China flew a nuclear-capable bomber over its disputed islands in the South China Sea — while also preparing to ship new surface-to-air missiles to those islands.
The president-elect was not impressed. Following that display of force, Trump appointed two fierce critics of China's trade policies — Peter Navarro and Robert Lighthizer — to top positions in his administration. And, on Monday, he tweeted the following:
The Chinese government has never been a fan of Twitter — it banned the platform in 2009. And Trump has proven himself a less-than-ideal brand ambassador for Jack Dorsey's company: On Tuesday, Chinese state news agency Xinhua (essentially) advised the president-elect to delete his account.
In a commentary titled, "An obsession with 'Twitter foreign policy' is undesirable," the media organization wrote. "Everyone recognizes the common sense that foreign policy isn't child's play, and even less is it like doing business deals," according to a translation by the New York Times.
"Twitter shouldn't become an instrument of foreign policy," the article continued, suggesting that Trump is wrong to believe that "issuing hard-line comments and taking up sensitive issues" over the platform will "add to his chips for negotiating with other countries."
The Global Times, another Chinese state-run outlet, delivered a similar message last month, deriding Trump's behavior as very "childish and impulsive," and proclaiming, "China and other powers in the world are not going to be bullied."
On Tuesday, a spokesman for China's Foreign Ministry addressed the substance of Trump's tweet, arguing that China's efforts to curb North Korea's nuclear ambitions have been "widely recognized."
"We hope all sides will avoid remarks and actions to escalate the situation," he continued.
Trump isn't wrong to suggest that China has helped prop up Kim Jong-un's regime: As Time notes, China is North Korea's only major ally and accounts for 90 percent of the rogue state's trade.
Beijing doesn't want its delusional trade partner rattling intercontinental ballistic missiles toward the West. But, above all, the Chinese government wants to keep North Korea on the map, so as to avoid the specter of a unified Korean Peninsula aligned with the United States.
Still, China has, on occasion, cooperated with the international community's efforts to deter North Korea's nuclear ambitions. Last March, Beijing signed onto to U.N. sanctions of the rogue state, following its fourth nuclear test.
To make Kim Jong-un's regime pay a higher price for its belligerence, Trump will need to secure further cooperation from its only major trading partner. And to do that, he will need to convince China that it can get tough on North Korea without risking its own strategic interests on the peninsula.
It seems unlikely that sarcastic tweets are that the best medium for making such a case.