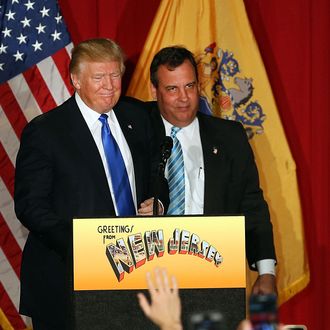 Can't get rid of me so easily.
Photo: Spencer Platt/Getty Images
Donald Trump's rebooted transition team spurned loyalist Chris Christie, forcing him back to his dreary day job as the historically unpopular governor of New Jersey. But according to a report in Politico, Christie doesn't expect to be in the wilderness forever. Rather, he is predicting a chaotic Trump White House with much higher than average turnover, creating plenty of opportunities for ambitious, out-of-work loyalists. As a transition official told Politico:
"There's waves in everything… There's waves in campaigns. There was [Corey] Lewandowski. Then, there was Paul Manafort. Then, there was [David] Bossie, [Stephen] Bannon, and Kellyanne [Conway]. That's how Trump operates. It's Game of Thrones, the Apprentice, and Survivor all mixed into one."
Who wouldn't want to work at a place like that?