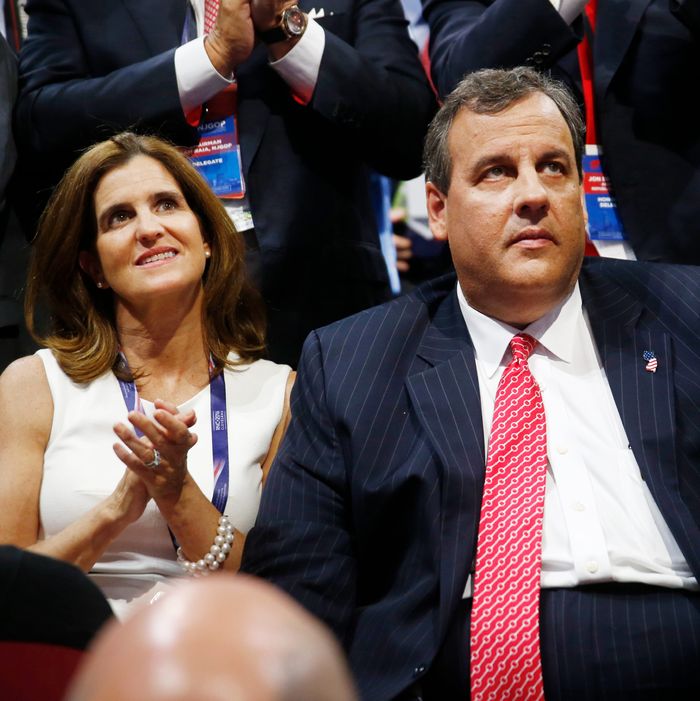 Mary Pat Christie and her husband.
Photo: Andrew Harrer/Bloomberg via Getty Images
Chris Christie's failure to latch on with the Trump administration has been attributed to, among other things, the Bridgegate scandal and his history with Jared Kushner. But now the governor has a new excuse for why he won't be going to work in D.C. next week — his wife didn't want to move.
Appearing on WFAN's Boomer & Carton, the wildly unpopular governor, who became Trump's errand boy in an apparent attempt to ensure his future employment in the White House, said he could have taken a job on Trump's team, but he would have had to leave his family in New Jersey.
"He didn't offer me a job that I thought was exciting enough for me to leave the governorship, and my family," Christie said. "Because Mary Pat made really clear she wasn't coming to D.C."
The posts Christie turned down reportedly included cabinet-level positions atop the VA and Department of Homeland Security, along with the ambassadorship to Italy and a White House advisory role. But it was the role of Attorney General that Christie wanted and his failure to get it had nothing to do with his wife.