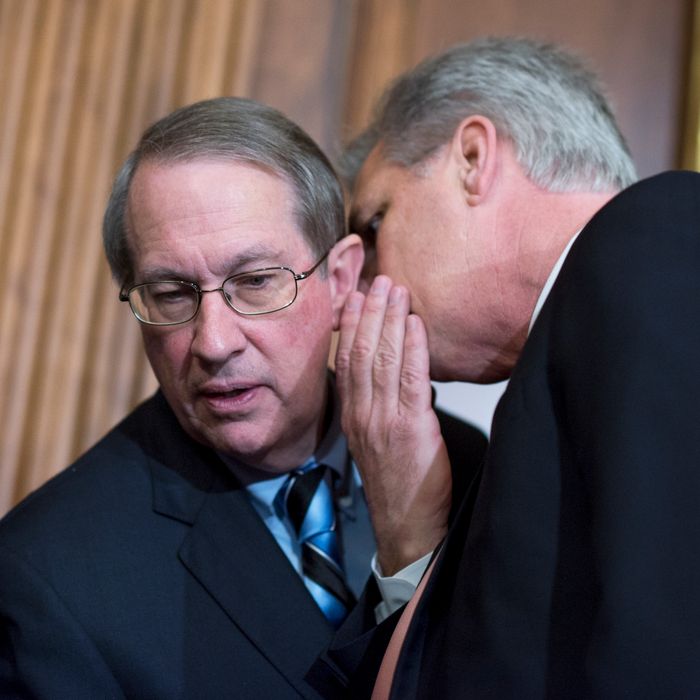 Representative Goodlatte, call your office.
Photo: Tom Williams/CQ-Roll Call,Inc.
While only a handful of GOP lawmakers have publicly come out against President Trump's executive order restricting immigration from seven Muslim-majority nations, according to multiple reports Republicans are furious that the White House gave them no notice about the travel ban, then offered them little guidance as the policy was haphazardly implemented.
Trump advisers Steve Bannon and Stephen Miller reportedly drafted many of last week's executive orders on their own, without consulting anyone responsible for implementing or defending the policies. According to the AP, Defense Secretary James Mattis, Homeland Security Secretary John Kelly, and Rex Tillerson, Trump's pick for secretary of state, have complained that they were kept in the dark about the immigration ban. Senate Foreign Relations Committee Chairman Bob Corker said congressional leaders learned about the ban from media reports.
It appears that the Trump White House actually did work with several Republicans on Capitol Hill — but they were House Judiciary Committee staffers, not members of Congress. They couldn't tell their bosses because the Trump team had them sign nondisclosure agreements.
Politico reported on Monday night that a small group of senior staffers on the House Judiciary Committee began working on the immigration order during the transition period. Judiciary Committee Chairman Bob Goodlatte was not "consulted by the administration on the executive order," according to one committee aide.
Two sources said all of the staffers signed nondisclosure agreements, which is standard for Trump employees but unheard of for congressional aides.
"Like other congressional committees, some staff of the House Judiciary Committee were permitted to offer their policy expertise to the Trump transition team about immigration law," a House Judiciary Committee aide said in a statement. "However, the Trump administration is responsible for the final policy decisions contained in the executive order and its subsequent rollout and implementation."
Following the uproar this weekend, the White House has reportedly dispatched aides to keep congressional Republicans in the loop on future policy moves. But the idea that their subordinates may secretly know more about White House policy than they do probably won't calm Republican members of Congress.