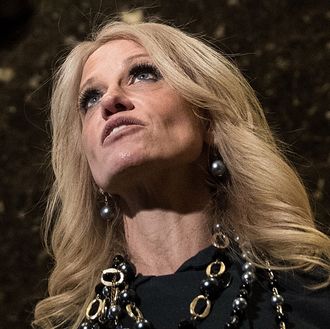 Photo: Drew Angerer/Getty Images
The Whitehouse.gov petition demanding that President Donald Trump finally release his tax returns is now well past the 100,000 signatures needed to prompt a response from the White House (per the rules of the We the People platform, which was created by the Obama administration). In a Sunday morning appearance on This Week, Trump advisor Kellyanne Conway addressed the matter, saying, perhaps unsurprisingly, that her boss is simply never going to make his tax returns public, despite his repeated promises to do so after the completion of "a routine audit."
"The White House response is that he's not going to release his tax returns. We litigated this all through the election. People didn't care," Conway told George Stephanopoulous. "They voted for him, and let me make this very clear: Most Americans are very focused on what their tax returns will look like while President Trump is in office, not what his look like." Meanwhile, a recent ABC News/Washington Post poll said that 74 percent of Americans want to see the tax returns.
Conway also appeared on Meet the Press, where host Chuck Todd pressed her on the Saturday briefing during which Press Secretary Sean Spicer blatantly lied about the number of people who attended Trump's Inauguration. "Why put [Spicer] out there for the very first time in front of that podium to utter a provable falsehood?" Todd asked. After a minute of attempting to change the subject, Conway finally instructed Todd to stop being "so overly dramatic about it." "You're saying it's a falsehood," she said. But, actually, Spicer was just offering what she called "alternative facts," which is probably a term you should get used to hearing:
Upon realizing that Trump has no intention of releasing his tax returns, WikiLeaks put out another call for someone to leak the documents. They noted that Trump breaking a decades-old tradition by refusing to release documents that could shed light on his vast business interests and potential conflicts of interest is even more egregious that Hillary Clinton failing to share the full text of speeches she made to some bankers.
This post has been updated to include WikiLeaks' response.
This post originally stated that Kellyanne Conway discussed the tax returns on Meet the Press; it was on ABC's This Week. It has been corrected.