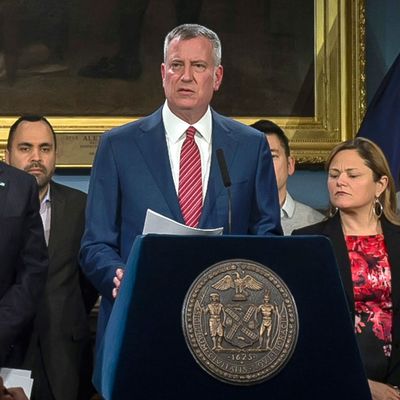 Mayor Bill de Blasio hosts a press conference in response to presidential executive orders at City Hall on Wednesday, January 25, 2017.
Photo: Ed Reed/Mayoral Photography Office
No stranger to lawsuits, Donald Trump might get slapped with one as president, this time from his hometown. Mayor Bill de Blasio said the city would sue its former-ish resident over his newly inked executive orders to strip funding from sanctuary cities. "We think it's very susceptible to legal challenge," de Blasio said on CNN Thursday morning, less than 24 hours after Trump signed the mandate. "If they make an attempt to pull that money, it will be from NYPD, from security funding to fight terrorism."
The mayor added that the orders — which Trump described as an issue of public safety — would achieve the opposite in New York, not just because the NYPD might take the biggest hit, but because it would erode law enforcement's trust with immigrant communities. "New York City has half a million undocumented people," the mayor said. "We want them to come forward and work with the police if they see a crime, if they're a victim of a crime. If they believe by talking to a police officer they will get deported and be torn apart from their family, they're not going to work with police."
NYPD Commissioner James O'Neill echoed similar sentiments at a press conference Wednesday, which de Blasio held after Trump signed the executive order. "I think there's a very delicate balance in New York City right now," he said. "I think that's why we're doing so well, and to do anything that would eat at that trust, I think, would be a disservice to the people of this great city."
About 10 percent of the New York City's budget this year — about $8.5 billion — comes from the federal government, an amount that's been decreasing in recent years. Next year's proposed $84.7 billion budget, which de Blasio presented this week, relies on about $7 billion in federal money. De Blasio warned, though, that the budget didn't contain "Trump-specific" adjustments, saying without the details it was too soon to see where the gaps might be. But, he said, his team drew up the preliminary budget with "the assumption of profound challenges from Washington."
It's unclear exactly how much federal funding would be at risk. In this year's budget, the bulk of federal monies go to programs that serve low-income and vulnerable New Yorkers through housing vouchers, and social, mental-health, and homeless services, which might be protected from such cuts by a recent Supreme Court decision, de Blasio hinted Wednesday.
So any federal-funding losses would most likely apply to the law-enforcement arena. According to a preliminary analysis from Scott Stringer's office, it appeared that $156 million in Urban Area Security Initiative grants from the Department of Homeland Security and about $9 million from the Department of Justice — about $165 million in total — could immediately be at risk, reports Politico. But a big chunk of that DHS money is for counterterrorism and security efforts, which, at least this year, included the cost of protecting Trump Tower (at a cost of $500,000 per day — for which the city hasn't been totally reimbursed yet.)
"The stroke of a pen in Washington does not change the people of New York City or our values," de Blasio vowed, a promise shared by mayors and officials of other sanctuary cities, from Chicago to Boston to Los Angeles.