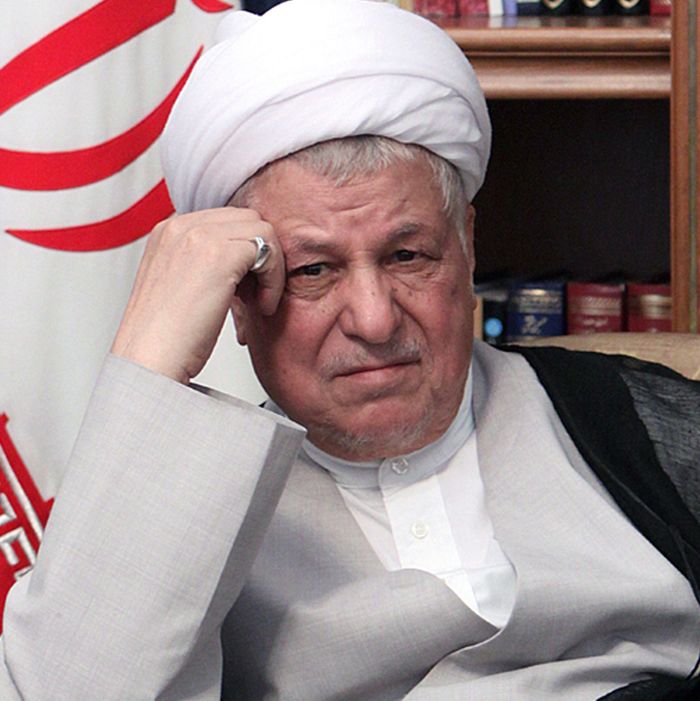 Rafsanjani, during a meeting with the families of Iranian political prisoners in 2010.
Photo: Mohammad Kazempour/AFP/Getty Images
Former Iranian president Ali Akbar Hashemi Rafsanjani has died of a heart attack at the age of 82, according to Iranian state media. A wealthy founding member of the 1979 Islamic Revolution, the Shiite Muslim cleric was, for much of his life, one of the most powerful men in Iran, and though his power had waned in recent years, he had nonetheless become an influential voice for reform within Iran's theocracy. His death thus represents a blow to Iran's already-beleaguered moderates, and leaves current Iranian president Hassan Rouhani without a key ally ahead of this year's presidential election. Like Rouhani, Rafsanjani was also an important supporter of rapprochement with the West, a still contentious issue inside Iran's government that is sure to flare up because of this year election, as well as the likely more hawkish incoming policies of President-elect Donald Trump in the U.S.
Rafsanjani was a close aide and advisor to Iran's first supreme leader, Ayatollah Khomeini, as well as the top commander of the country's armed forces during the Iran-Iraq war in the 1980s. After helping end the war, he served as president from 1989 to 1997, a crucial and mostly productive period in the country's post-revolution and post-war history. The pragmatic, opportunistic, and politically gifted Rafsanjani was also a power broker, and he was reportedly instrumental in selecting Khomeini's successor, Ayatollah Khamenei, as Iran's second supreme leader — though, that backfired on Rafsanjani and the two allies later became rivals, diminishing Rafsanjani's power.
In 2005, Rafsanjani sought the presidency once again, but was defeated by the populist Mahmoud Ahmadinejad, in part because Rafsanjani, at that point, was seen as one of the sources of Iran's many problems, particularly corruption. Rafsanjani then redeemed himself in the eyes of many Iranians with his subsequent and prominent criticism of President Ahmadinejad, particularly following the disputed 2009 presidential election — at which point Rafsanjani supported the country's Green Movement reformists, who suffered a brutal crackdown following mass protests against the election results. That public support made Rafsanjani both a target for the country's conservatives as well as a key ally for the country's more moderate reformists. He even called for the release of political prisoners and more political freedoms and progressive economic policies within the country.
Khamenei and his conservative supporters subsequently stripped Rafsanjani of even more of his influence, and two of his children were jailed. Denied another chance at running for president in 2013 by Iran's mostly hardline Guardian Council, Rafsanjani threw his support behind the like-minded Rouhani, who ultimately won in part because of that support. That victory, and the moderate alliance that made it possible, set in motion a chain of events which led to the landmark nuclear peace deal that Iran signed with the U.S. and other Western powers in 2015. Though Rafsanjani was one of the key architects of Iran's nuclear program, he was a staunch supporter of the 2015 peace deal, as well as greater overall political and economic engagement with the West and Iran's Arab neighbors.
(Rouhani's above tweet, about Rafsanjani's death, reads: "The soul of a giant man of revolution, politics, a symbol of patience and strength, has ascended to skies.")
Iran's hardliners are not the only critics of Rafsanjani, however, as some Iranians believe he had used his power and influence to enrich himself and his family members (he died a multimillionaire). In addition, and more troubling, Rafsanjani has also been accused of being involved in, or responsible for, the deaths of many liberals and dissidents both in and outside of Iran before and during his presidency.
At the time of his death, Rafsanjani was nowhere near as powerful as he once was, but he did head Iran's Expediency Council, which acts as an intermediary between Iran's parliament and the Guardian Council. In addition, he was a member of the Assembly of Experts, which is responsible for appointing the country's next supreme leader. Since Ayatollah Khamenei is 77 years old and rumored to be in poor health, the Assembly of Experts may soon play a key role in shaping Iran's future, and it's likely that Iran's moderates had hoped Rafsanjani would once again wield considerable influence in that process. As analyst Farzan Sabet pointed out on Twitter, Rafsanjani's death also represents an important generational shift away from the Iranian leaders who came of age fighting against the Shah before the revolution, to those who grew up during or after.
How that shift plays out in Iranian politics remains to be seen, but in the meantime, it's likely that Iran's hard-liners will be able to take advantage of Rafsanjani's sudden absence, both in regards to the future leadership of Iran and in the ongoing efforts for rapprochement with the West and Arab world. In addition, as Borzou Daragahi notes at Buzzfeed, Rafsanjani's death means that Rouhani is no longer just the president, but the de facto leader of Iran's moderates and reformists, which could mean heading toward a new generation of moderate leaders, or — should he lose this year's election — an enormous setback for those political forces in the country. Lastly, the lack of a key moderate voice like Rafsanjani's may become particularly important should President-elect Trump and Republican lawmakers soon pursue a more antagonistic foreign policy toward Iran — like cancelling President Obama's nuclear deal and/or passing new or renewed sanctions — and that's a shift which most analysts agree would further empower the more conservative elements of the Iranian regime.