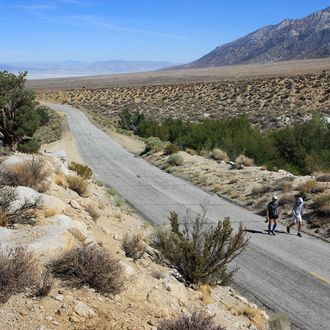 Death Valley.
Photo: David McNew/Getty Images
Among the oddest subplots of President Trump's very odd first week in office has been the improbable emergence of the various Twitter accounts of the National Park Service as sites of resistance and dissent.
On Friday, the main Twitter account of the National Park Service (which, mind you, uses Twitter as part of its emergency notification system) was temporarily shuttered after retweeting tweets that reflected poorly on the president — one of which compared crowd photos of his and his predecessor's inaugurations, held on the National Park Service's own National Mall. (The NPS deleted the retweets and apologized.) On Tuesday, the Twitter account for South Dakota's Badlands National Park began posting facts about climate change, a day after it was revealed that the administration had issued gag orders on the Environmental Protection Agency and the U.S. Department of Agriculture. (The Tweets were deleted hours after being posted.)
So, given this precedent, you'll forgive us if we read too much into these tweets about the Japanese-American internment camps of the 1940s from the Twitter account for Death Valley National Park:
The posts are well within the boundaries of acceptable for Death Valley National Park's Twitter account, given that they concern specific events in the park's history. The fact that they come the morning after the Trump administration reportedly started acting on its promises to build a wall between the U.S. and Mexico, ban refugees from entering the United States, and place stringent restrictions on immigration? That must just be a coincidence.