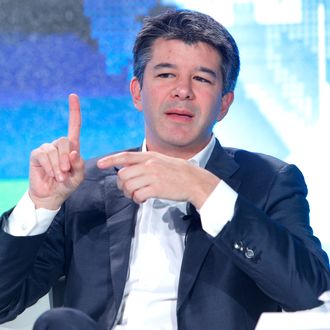 Uber CEO Travis Kalanick.
Photo: VCG/Getty Images
As protests erupted at JFK Airport in New York City yesterday following President Trump's sweeping executive order on immigration, the New York Taxi Workers Alliance — a majority-immigrant and heavily Muslim union — stopped service to and from the airport in solidarity with the protesters and people affected by Trump's ban. The 19,000-member union wrote on Facebook that, "As an organization whose membership is largely Muslim, a workforce that's almost universally immigrant, and a working-class movement that is rooted in the defense of the oppressed, we say no to this inhumane and unconstitutional ban."
Uber, likely acting less out of active malevolence than cluelessness, decided to do the exact opposite. As it often does in inclement conditions and during moments when it's afraid it will be seen as price gouging, the company dropped surge pricing around the airport:
Though turning off surge pricing would likely mean fewer drivers at JFK and less money in the company's pocket, the bland confirmation that Uber was conducting business as usual infuriated protestors, who accused the company of scabbing. Uber was forced to clarify hours later by linking to a limp email that CEO Travis Kalanick had sent to employees about Trump's order:
This order has far broader implications as it also affects thousands of drivers who use Uber and come from the listed countries, many of whom take long breaks to go back home to see their extended family. These drivers currently outside of the U.S. will not be able to get back into the country for 90 days. That means they will not be able to earn a living and support their families—and of course they will be separated from their loved ones during that time.

We are working out a process to identify these drivers and compensate them pro bono during the next three months to help mitigate some of the financial stress and complications with supporting their families and putting food on the table. We will have more details on this in the coming days.

While every government has their own immigration controls, allowing people from all around the world to come here and make America their home has largely been the U.S.'s policy since its founding. That means this ban will impact many innocent people—an issue that I will raise this coming Friday when I go to Washington for President Trump's first business advisory group meeting.
The company's commitment to compensating drivers caught abroad when the executive order was handed down is unquestionably admirable. But Kalanick is a rising star in a notoriously liberal business sector, and the CEO of a company that makes extensive use of immigrant labor in an industry already heavily reliant on it, and his inability to directly condemn the ban — and his place on Trump's "business advisory group" — seemed to push already-skeptical Uber users over the edge. Starting last evening, and continuing through today, users have been deleting their Uber accounts en masse — not just deleting the app, but the account itself — and telling the company why. They shared screenshots with the hashtag #deleteUber.
What about alternatives? Well, Lyft, one of Uber's main competitors, used the controversy as an opportunity to announce that it would donate $1 million to the American Civil Liberties Union over the next four years. That being said, anyone looking for a liberal hero should probably look somewhere besides the ride-share app sector — Lyft's labor practices are not much better than Uber's; they continued to service JFK yesterday, and Trump advisor Peter Thiel is also an investor. (If you live in New York City, you can use the Arro app to hail yellow cabs.)
If you're so inclined, you can delete Uber by going to the page linked here. We've reached out to Uber for comment and will update if we hear back.

Update, 4:35 p.m.: Kalanick has posted another update that is still mostly focused on how Uber is helping its own drivers deal with the immigration ban. Along with providing legal services and compensating drivers for lost earnings, it includes the more expansive point of "[urging] the government to reinstate the right of U.S. residents to travel — whatever their country of origin — immediately."