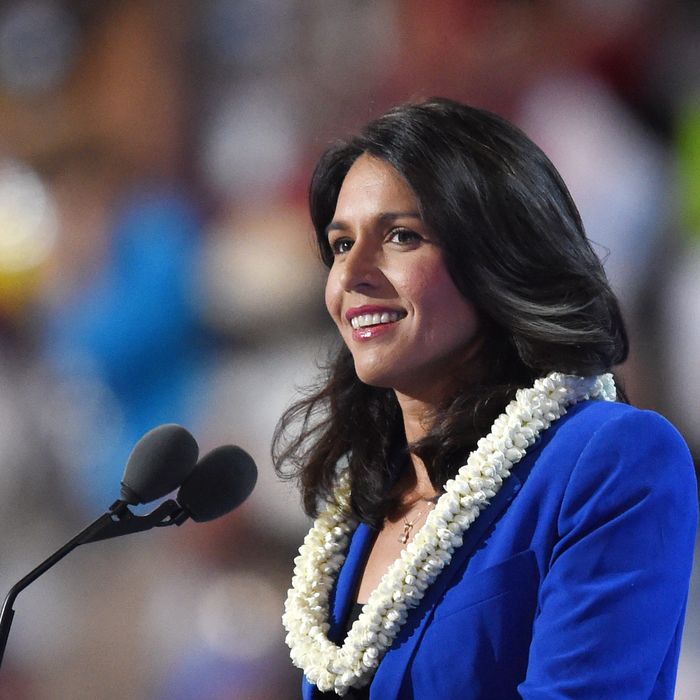 Did Gabbard gab with Assad?
Photo: TIMOTHY A. CLARY/AFP/Getty Images
Democratic Representative Tulsi Gabbard is on her way home from an unannounced "fact finding" trip to Syria where she met with humanitarian workers, refugees, and government leaders, her staff told Foreign Policy Wednesday. Whether Syrian president Bashar al-Assad was among those leaders, her spokesperson would not say.
Gabbard, a major in the National Guard and Iraq War vet, has been critical of the Obama administration's insistence that Assad be removed from power in Syria, despite his war crimes. Ousting Assad would only create instability, she argues. She's also chided Obama for his refusal to use the phrase "radical Islamic terrorism," an attack he typically gets from the right.
In November, Gabbard and Trump met when the congresswoman was reportedly under consideration for a cabinet position. At the time, she said she took the meeting to dissuade Trump from dragging "us into an escalation of the war to overthrow the Syrian government."
Gabbard's stance on Assad has made her a polarizing figure in D.C. A prominent Bernie Sanders supporter, she also has an admirer in Trump's senior counselor Steve Bannon. And he's sure to only like her more after this trip, which has reportedly angered congressional leaders. If there's one thing Trump and Bannon love, it's pissing off both Paul Ryan and Nancy Pelosi.