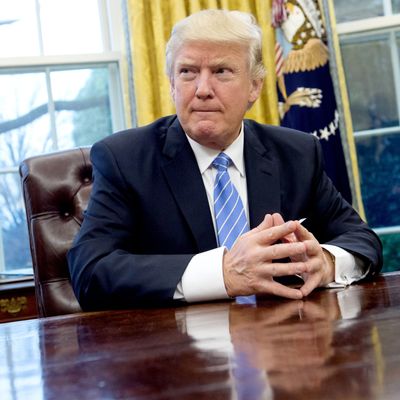 Donald Trump.
Photo: SAUL LOEB/AFP/Getty Images
As of Friday afternoon, Donald Trump is now a man of two Twitters. He inherited the @POTUS account from Barack Obama, and he still maintains @realDonaldTrump. There have only been a dozen tweets from @POTUS thus far — respectful, muted statements of the kind we're used to from major politicians. President Trump's personal account, on the other hand, is still as much of a roller coaster as ever. "Watched protests yesterday but was under the impression that we just had an election! Why didn't these people vote? Celebs hurt cause badly," he tweeted Sunday.
Today, the U.S. Department of Defense tweeted a link to report on DoD-funded research on "how information on social media can provide an important window into a person's state of mind." (The report focuses on both mental health and suicide prevention related to social media.) Boy, I wonder if they were thinking of anyone in particular?
Coincidence? Probably. But if it isn't somebody should warn the DoD's social team about what happened to the National Park Service when it went rogue on Twitter last week. The NPS has reportedly been banned from tweeting following retweeting pictures showing how empty the National Mall was during Trump's inauguration.