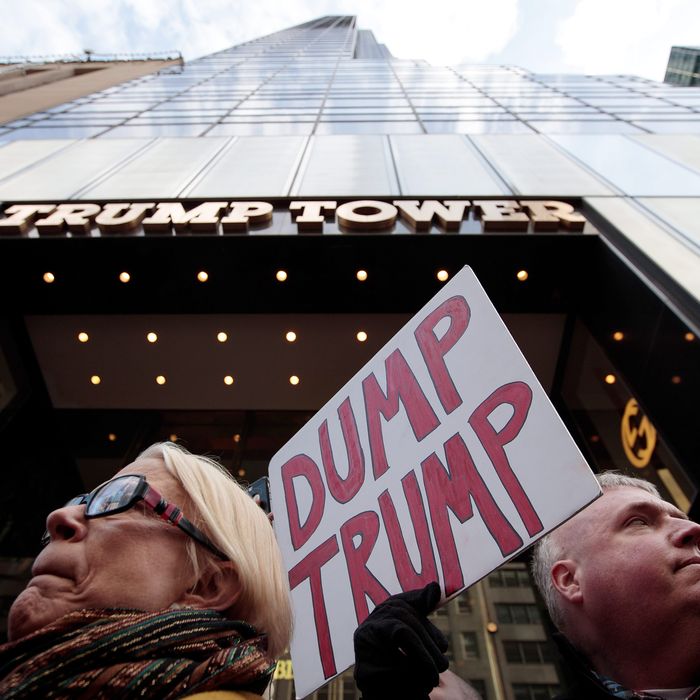 The Fifth Avenue protest zone, now and for the foreseeable future.
Photo: Drew Angerer/Getty Images
On May 10, 1849, a riot broke out in Astor Place, with 20,000 brawlers driven bonkers by the English actor William Macready's interpretation of Macbeth. Rioters didn't just take to the streets; they actually took the streets, tearing up cobblestones and hurling them at police. And while Macready was declaiming about all our yesterdays lighting fools the way to dusty death, real people were being killed outside: 20 or 30 of them, depending on who was doing the counting. It was an episode of appalling hysteria but also a cathartic expression of popular unrest in which tragedy spread from the stage to the streets. Macready was English, and his rival, Edwin Forrest, who was playing Macbeth a few blocks away, was American; that difference ignited poor, heavily Irish crowds against the city's Anglophile aristocrats. The iron filings of class resentments flew to the magnet of Shakespeare.
New York has a long history of street action, and the election of Donald Trump promises to bring more, starting with Saturday's Women's March. But protests here don't behave the way they do in other large cities. New York has no indisputable place of convergence — no Tahrir Square, no Lincoln Memorial, or Tiananmen Square — and so the streets have always served as a movable platform. Activist groups gather, migrate, fragment, and coalesce at another significant location. A new exhibition at the Bronx Documentary Center, "Whose Streets? Our Streets! NYC 1980–2000" (supplemented by a rich online version) traces the way the passions and the physical city shape each other. The show's scope is limited to 20 tumultuous years, in which thousands swarmed the streets for a dizzying range of reasons: to shut down war, call out police brutality, reject racism, combat AIDS, liberalize abortion, resist tuition hikes, advocate for gay rights — or to take the opposite side on each of those issues. Those photographs make it clear that protesters chose their turf carefully. Here's Al Sharpton in all his bloated, track-suited glory holding a rally for racial justice outside the Slave Theater in Bed-Stuy in 1990. There's a suite of ACT UP demonstrations: at Federal Plaza to protest President Reagan's silence on AIDS, at St. Patrick's Cathedral to shame the Catholic Church, at the Waldorf Astoria, at Grand Central Terminal, along West Street. Each of those locations had a specific symbolic value; together, they make for a sprawling and intricate geography of dissent.
In any other claustrophobic city, a large square where thousands raged and dozens died tends to acquire the status of holy ground. Open areas where shots were fired or truncheons cracked keep humming with political resonance years after the bloodshed, and history keeps adding fresh meanings. But New York's political geography is always in flux, and soon after the Shakespeare riots, Astor Place lost its symbolic charge. The action shifted slightly uptown — the first Labor Day parade, in 1882, began with speeches in Union Square — and then scattered all over the city. Eighty years later, Vietnam protests took place on the Columbia campus, in Washington Square, in Central Park, and at the United Nations. In 2011, the Occupy Wall Street movement took over a privately owned public space that most New Yorkers had never heard of: Zuccotti Park, named for a city planning commissioner and operated by a real estate developer. Three years later, after a grand jury declined to indict the police officer who placed an unarmed Staten Island man named Eric Garner in a lethal chokehold, a march against police brutality started at Washington Square, branched out over the Brooklyn Bridge and crosstown to the West Side Highway, and fragmented into various local protests.
Donald Trump's election has shifted the First Amendment action yet again. The president-elect, who has put his name on so much of New York, is now helping to map out fresh itineraries of outrage. Soon after the election, residents at the former Trump Place had his name ripped from their buildings, while protesters (and gawkers) gathered at Trump Tower and Trump International Hotel and Tower at Columbus Circle. The New York version of the Women's March starts at the UN, heads east along 42nd Street, and up Fifth Avenue to Trump Tower. But the 45th president's vast Manhattan real-estate legacy offers plenty of future opportunities, too. A long march might also start at the Trump Building at 40 Wall Street, pass Trump Soho on Spring Street, swing across and uptown to the Trump World Tower at 845 United Nations Plaza, and terminate at Wollman Rink in Central Park, which Trump built and operates.
Many of those spots already vibrate with the memory of protests past: Almost exactly a century ago, the Negro Silent Protest Parade, organized by the NAACP, marched past the future site of Trump Tower to the beat of muffled drums, supporting "a union that may never be dissolved, in spite of shallow-brained agitators, scheming pundits, and political tricksters who secure a fleeting popularity" by fomenting racial divisions. That parade didn't end Jim Crow, but the historian Ann Douglas argues that it kick-started the Harlem Renaissance.
The lack of a focal piazza may serve activists well in the coming years because it embodies the essential New York values that the administration appears so eager to crush: the healthy churn of newcomers, the natural flow of ethnic groups, the city dwellers' refusal to be corralled or homogenized. From the imperial fora of ancient Rome to the boulevards of Haussmann's Paris to Buenos Aires's Plaza de Mayo, authoritarian regimes have always found big, ceremonial spaces both dangerous (because they concentrate so many people in one place) and ideally suited to surveillance and propaganda (for precisely the same reason). The planned Women's March in Washington, D.C., has been shunted from the Lincoln Memorial, and will have to skirt the National Mall. That would hardly matter here: A wannabe dictator would find New York's decentralized mesh a much more slippery threat.
Everyone owns the streets; nobody can control them all. This means that free expression flows where it pleases. During the Republican National Convention in 2004, the NYPD herded protestors into oxymoronic "free-speech zones," outrageously implying that the rest of the city was subject to censorship. It's not. Even on ordinary days, New Yorkers loudly exercise their First Amendment rights on virtually every block, addressing issues that range from the soul's salvation to the suffering of the Mets. In a politically precarious era, that vast and varied grid of public turf, with its endless supply of symbols, becomes a source of popular strength.