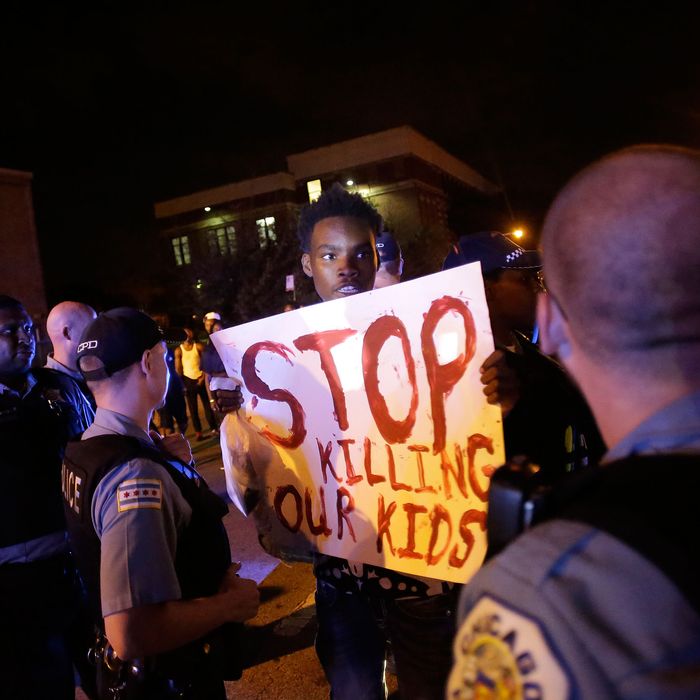 A protester in Chicago.
Photo: Joshua Lott/Getty Images
For years, Chicago police have violated the civil rights of the city's residents through widespread bias against blacks and repeated use of excessive force, the Justice Department announced on Friday.
The conclusions are part of a 164-page report, the result of a 13-month investigation that found a pattern of poorly trained police officers relying too much on the use of force, sometimes deadly, while facing few consequences for their actions. The investigation was launched in the aftermath of the police shooting of teenager Laquan McDonald, who was walking away from the police when he was killed.
At the federal courthouse in Chicago, Mayor Rahm Emanuel and federal Attorney General Loretta Lynch said a plan was in the works to fix the problems in Chicago. Lynch, who reportedly hurried to finish the investigation before the end of the Obama administration, said the process of reforming the CPD would continue "regardless of who sits atop the Justice Department." But Senator Jeff Sessions, Donald Trump's pick to replace Lynch and a vocal opponent of consent decrees, might have something to say about that.
The CPD has used forced nearly ten times more often against blacks than whites. But the problems, the report says, start long before the use of force. Training, both before and during an officer's career, is lacking. One use-of-force training video the DOJ reviewed was made "decades ago" and is not in compliance with current laws or the department's own policies. In interviewing recent graduates of the police academy in Chicago, the DOJ found only one in six "came close to properly articulating the legal standard for use of force."
Even when the CPD has taken steps to stem the tide of deadly force, it did so ineffectively. The department's supply of Tasers, for example, was expanded last year to provide an option for nonlethal force. But officers failed to use them after they were trained too quickly and "without proper curriculum, staff, or equipment."
"This left many officers who completed the training uncomfortable with how to use Tasers effectively as a less-lethal force option — the very skill the training was supposed to teach," the report says.