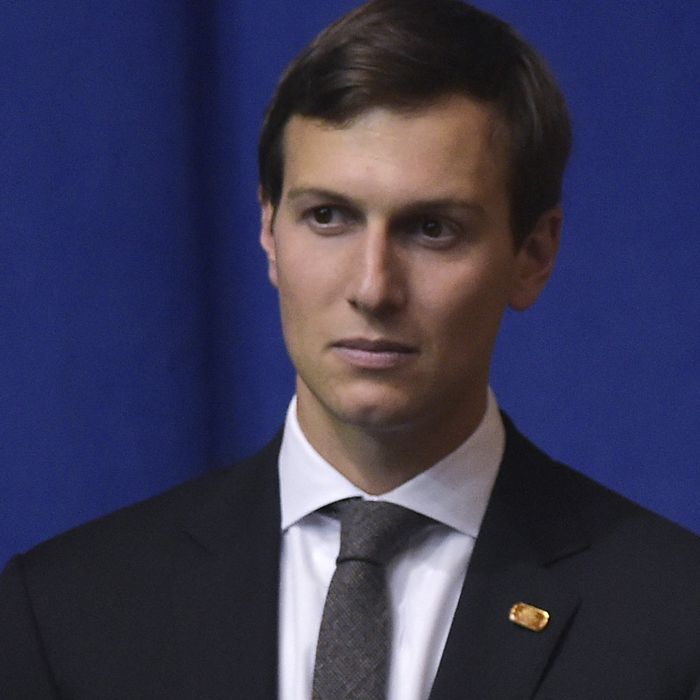 Kushy gig.
Photo: Mandel Ngan/AFP/Getty Images
When Donald Trump first announced that his son-in-law, Jared Kushner, would join his administration as a senior White House adviser, eyebrows were raised. For nearly five decades, many legal scholars had assumed that such a hire was barred by federal law: Troubled by President Kennedy's appointment of his brother Robert as attorney general, Congress passed an anti-nepotism law in 1967 that prohibited presidents from appointing their relatives to federal agencies.
But Kushner's lawyers concluded that this was no obstacle to the appointment of Ivanka's husband, because the White House is not a federal agency.
On Saturday, the Justice Department said that this story checks out. In a 14-page opinion drafted by the department's Office of Legal Counsel, government lawyers argue that a law passed by Congress in 1978, which gave the president broad authority to appoint White House officials, overrides the anti-nepotism legislation passed 11 years earlier.
"We believe that the President's special hiring authority … permits him to make appointments to the White House Office that the anti-nepotism statute might otherwise forbid," the opinion reads.
Ultimately, Kushner's appointment may be a fortunate development for those skeptical of the Trump team's ethics. Had Kushner remained an informal adviser, he would have escaped the reach of conflict-of-interest laws. Now, he will be required to file a financial-disclosure report detailing his finances, and to divest from any assets that could generate a conflict of interest.
Kushner is expected to advise the president on public-private partnerships, trade issues, and the Israel-Palestine conflict, according to the New York Times.
On that last matter, Trump couldn't have more faith in his son-in-law's expertise.
"If you can't produce peace in the Middle East, nobody can," Trump shouted to Jared, at a candlelit dinner for donors in Washington Thursday night.
So, sure, Kushner may look like a nepotism hire — but can you think of anyone more qualified to broker a two-state solution than a 36-year-old real estate developer from New Jersey?