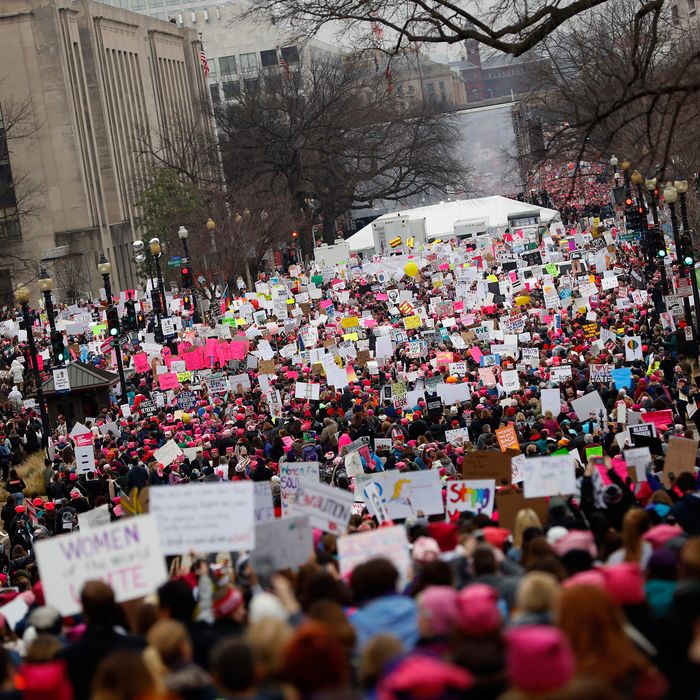 Photo: Aaron P. Bernstein/Getty Images
Of the many reasons a man like Donald Trump managed to win the presidential election, ranging from the 22nd Amendment to James Comey, an important one was the imbalance in political passion between the two sides. Not only did many Democrats distrust or dislike Hillary Clinton, but eight years of Democratic control of the White House had created complacency (as it did in 2000). Republicans were starving for power and willing to overlook their candidate's glaring, grotesque flaws. A number of Democrats would not forgive Clinton's smaller ones. The events of the last two days have made clear that Trump's victory wiped those conditions away overnight.
It matters that Trump drew a sparse crowd to inaugural festivities that he had billed beforehand as a historic, Jacksonian uprising of the People. And it matters much more that millions of Americans came out on a Saturday to register their protest. It is not only catharsis; though, catharsis is better than depression. The message has been heard by the political class, Republican and Democratic alike.
It might be easy to assume that Trump and his allies feel insulated from accountability. It is not quite so simple. Republicans in Congress have thus far given Trump near-total cooperation of the assumption that they could move quickly and with little resistance to implement their agenda. Democrats did not really wake up from their late-Clinton slumber until the middle of Bush's term, after which a lot of legislation had already passed. Republicans assuming they could rush through Paul Ryan's agenda, while allowing Trump to obliterate long-standing governing norms, will rethink. The kind of backlash Democrats eventually mounted against Bush, which drove landslide victories in the 2006 midterm and the 2008 election, is a plausible possibility. In those elections, many seemingly safe red states turned blue.
One of the great weaknesses of American liberalism is a congenital tendency toward depression when their party holds power. The demobilization of the Democratic base is over. The prospect of a Democratic wave may not stop Republicans, and it may not even give them pause. But the governing party had probably assumed the clock would not start for months on the liberal backlash. Now the clock is ticking already.