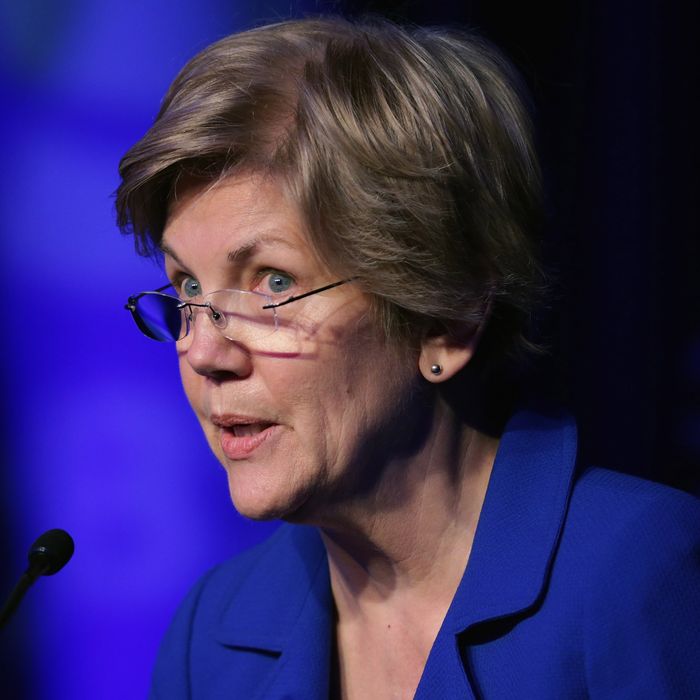 Elizabeth Warren had what she called a "pointed question" about whether Carson could guarantee Trump family won't be enriched by HUD programs.
Photo: Chip Somodevilla/Getty Images
In the midst of a generally congenial welcoming for HUD Secretary-designee Ben Carson before the Senate Banking Committee hearing on his confirmation, Elizabeth Warren fired a shot not at Carson but at his boss, though Carson clearly sensed the bullet whizzing past his head. She asked whether he could guarantee that HUD's massive investments would not benefit the president-elect and his family, given their heavy involvement in real estate development. Carson spluttered a bit, and initially said, "It will not be my intention to do anything that will benefit any American."
Carson finally recovered enough to tell Warren that no, he could not make any such guarantee with respect to the Trumps, and even said he didn't have a problem with good programs creating incidental benefits for individuals. And so Warren pivoted to a statement encouraging Congress to enact legislation forcing the 45th president to put his assets in a blind trust.
"The president-elect is hiding his family's business assets from me, from you, from the rest of America," said Warren to Carson. He didn't have any response to that, though in a later question about funny stuff Trump has said and done, he did remind the Committee he had run against the mogul for president.
Elizabeth Warren is often described as a sort of populist wonk who is at her best tormenting Wall Street types on the intricacies of financial misconduct and the need for tougher regulation. But she can bring the plain moralistic heat when the occasion demands, as Ben Carson can attest.