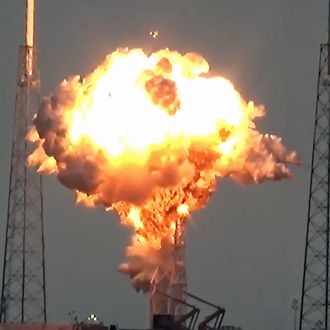 The SpaceX Falcon 9 explosion.
Back in September, a SpaceX Falcon 9 rocket exploded during a test at Cape Canaveral in Florida. No one was hurt, but the rocket and payload were destroyed (as were Mark Zuckerberg's hopes of launching its Amos-6 satellite for Israel's Spacecom as part of a project to provide internet to parts of sub-Saharan Africa). A week after the fiery explosion, Elon Musk announced he and his company were investigating but had not yet discovered what caused the "anomaly." Now, five months later, Musk finally has an answer.
According to a blog post from SpaceX, investigators from the company worked along with the Federal Aviation Administration (FAA), the U.S. Air Force (USAF), the National Transportation Safety Board (NTSB), and the National Aeronautics and Space Administration (NASA) to determine what led to the incident. SpaceX now believes that "one of three helium composite overwrapped pressure vessels (COPVs) inside the second stage liquid oxygen (LOX) tank failed." Read: fancy pressurized helium tank didn't do its job of containing said pressurized helium leading to the liquid oxygen catching flame and exploding.
The update comes just a week before SpaceX plans to launch another rocket on January 8, pending FAA approval of its conclusions regarding the September anomaly. Here's hoping for better luck in 2017 for our good pal Elon.