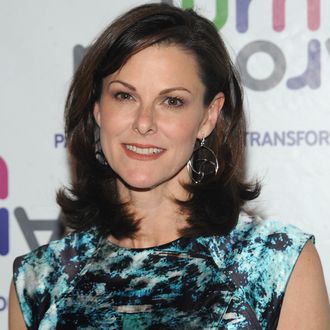 Photo: Brad Barket/Getty Images
Facebook has hired CNN anchor Campbell Brown as its new head of news partnerships. "I will be working directly with our partners to help them understand how Facebook can expand the reach of their journalism, and contribute value to their businesses," Brown wrote in an announcement (on Facebook). "That also means making sure there is ongoing feedback from publishers as Facebook develops new products and tools for news organizations."
In other words, Brown will be trying to make nice with the news organizations that have become both dependent on and hugely suspicious of Facebook's power over attention and distribution. "Right now we are watching a massive transformation take place in the news business — both in the way people consume news and in the way reporters disseminate news," Campbell wrote this morning. "Facebook is a major part of this transformation." This is a nice way of saying that Facebook has devastated pretty much every news organizations' business model by controlling an outsize amount of traffic that they receive. If you don't play by Facebook's rules, you leave a lot of potential audience members on the table. The swings in traffic that accompany Facebook's algorithm tweaks can make establishing a sustainable business model increasingly volatile.
It's a noteworthy hire, in part because of what Brown's new job isn't. Amidst a glut of misinformation and outright hoaxes that pervade Facebook (otherwise known as, yeah, "fake news"), media commentators have argued that Facebook needs an ombudsman or editor-in-chief — someone whose responsibility is editorial quality control. Brown's job is business development, not editorial; she's not responsible for eliminating fake news so much as making Facebook a welcome place for news organizations — and the ad dollars that Facebook hopes might accompany them. And her background — Brown spent years at CNN and NBC — makes it clear which news organizations in particular Facebook is interested in.
It's not surprising that Facebook is trying to create a runway for TV-news organizations to bring their segments and talent to Facebook. The company has long been open about its desire to grab some of the lucrative TV advertising market, and its recent push into video (and especially live video) show Facebook's interest in creating a television-like experience. Brown can help Facebook figure out how it can be TV, and help TV figure out how it can be Facebook. And anyone expecting anything more from Facebook will be kept waiting.