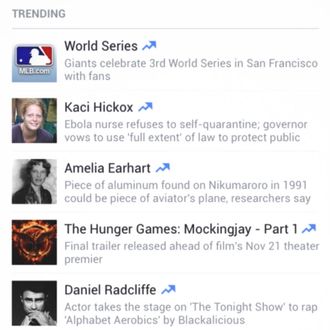 In yet another attempt by Facebook at turning its "Trending" section into something other than a complete wasteland, The Wall Street Journal reports that "Facebook's software will surface only topics that have been covered by a significant number of credible publishers." The new version of the module will highlight headlines to give context as to why a certain topic is trending.
The overarching idea seems to be that weighing consensus on newsworthiness will help separate the wheat from the chaff (or at least the real chaff from the alternate chaff). Theoretically, this would prevent an unsubstantiated but highly viral report from being spread across Facebook by the social network itself, as happened several times this past year.
Of course, those false news stories were spread after Facebook let go all of the human editors that once curated "trending" following concerns about political bias. And, ultimately, this new initiative is Facebook taking a small step to fix a problem that it created — not just by firing its human editors but by creating, and maintaining, a "trending" box at all. ("Finding trending news" is surely not one of the main use cases for Facebook for most people.) In adopting language about credibility — news organizations that are considered for trending topics are described as "credible publishers" — Facebook will find itself falling into the same trap as well-meaning fact-checking organizations everywhere: The people most likely to be misled by false reports are simultaneously the ones least likely to trust Facebook's judgment of credibility. There are plenty of nut jobs who find Infowars to be credible (Alex Jones, who thinks lizards run the government, says that he's been offered White House press credentials). Once again, Facebook — a company that is reticent to admit it exerts editorial control — is trying to change the temperature of a swimming pool by dipping its toe in the water.