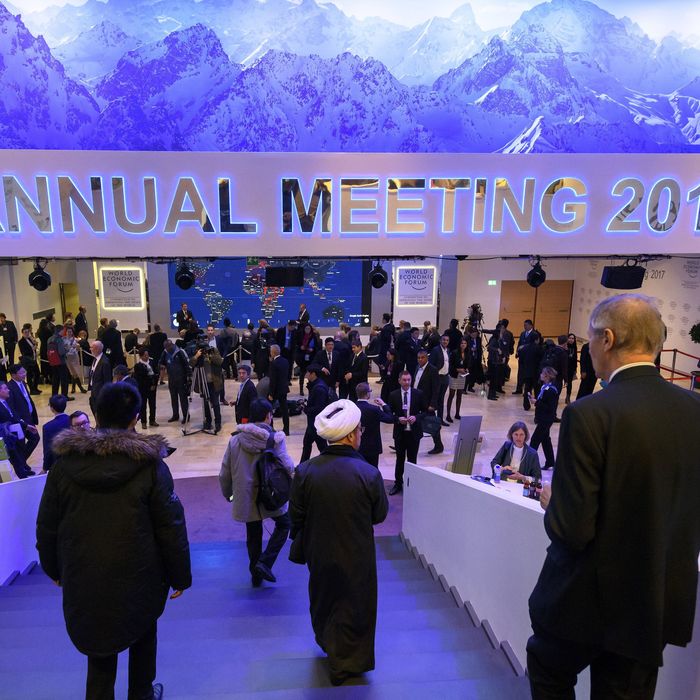 In Davos, everything is fine. You've got your good thing and I've got mine.
Photo: Fabrice Coffrini/AFP/Getty Images
This morning, America's top military officers showed Donald Trump how to launch a nuclear missile. By this afternoon, he will have the authority to fire the whole arsenal.
If you had told the conscious capitalists who assembled in Davos one year ago today, that Trump would not only maintain his lead in the GOP primary polls, but win the Republican nomination, and then the presidency — while pledging to bring back confiscatory tariffs, abandon NATO, and take on the "cabal of international bankers" who had "robbed our working class" — most would have considered your tale a perfect, if unrealistic, horror story.
After all, nearly everyone at last year's World Economic Forum supported Hillary Clinton or a mainstream Republican, and viewed Trump's campaign as little more than a filthy joke.
But now that the joke has turned deadly serious, the global economic elite is learning to stop worrying and love right-wing populism — or, at least, the pecuniary opportunities that Trump's brand of it presents. Per Bloomberg:
At coffee bars and cocktail parties in the Swiss town, which hosts the World Economic Forum's annual meeting this week, conversation has often turned to how money can be made from the rise of a populist firebrand.

Amid all the panel-talk of reducing inequality and re-invigorating the middle class, the Davos set is hard at work looking for ways to safeguard and expand its wealth even as anti-establishment movements roil global politics.

That means enjoying the benefits of a Trump-driven boom in the U.S., where the business world is celebrating his pledges to slash taxes and loosen regulations. Stock markets have surged to near record highs, and banks like Goldman Sachs Group Inc. and Citigroup Inc. have reported strong earnings. "If you look at what's happened to U.S. bank stocks in the last six weeks, they're up 30 percent," said Huw Jenkins, the vice-chairman of Sao Paulo-based lender Grupo BTG Pactual. "The U.S. looks like it's a great place to invest right now.
True, even those who smile on Trump's supply-side approach to working-class uplift have lingering concerns about the … quirks … of the mogul's persona. But according to the plutocrats who spoke with Quartz, the presidency is likely to bring out the real, sober Donald Trump.
"There are two Donalds — the one that you see in private, and the one you see in public," Ross Perot Jr., the Texas billionaire, assured the news site.
(The Donald you see in private has been accused of having little-to-no attention span, verbally abusing his subordinates, and serial sexual assault.)
And even if the incoming president continues to behave recklessly, some Davos attendees see ways to monetize that recklessness.
"He's pontificated a lot on what deals he thinks should go through and should not go through," Canyon Capital Advisers co-CEO Mitch Julis told Bloomberg Television, referring to Trump's habit of swinging the stock market by opining about various corporate mergers and government contracts, over cocktails or on Twitter. "So arb spreads are one area where you can actually lay bets," he explains, referring to trades that harness the discrepancy between a share's offer price and its current value.
Much of the Davos set is even making their peace with Trump's rejection of globalism.
"The basic message is to be more national, don't just be global," Richard Edelman, CEO of the communications marketing firm Edelman, told Reuters. "Let's try and pre-empt that tweet by having a long-term discussion about the supply chain."
General Motors echoed that message at the WEF Tuesday, when it announced that it would add nearly 2,000 U.S. manufacturing jobs, because it wants to "build where we sell."
Granted, GM's expansion seems to have been planned well before Trump's election. But that just goes to show how painless the transition to an "America first" corporate strategy will be.
Meanwhile, some service-sector enterprises see an upside to rising nationalism.
"The irony is that when more walls show up it is a good opportunity for services companies to help do business across those walls," Vishal Sikka, chief executive of Infosys, an IT services company, told Reuters.
Still, not all Davos attendees have recovered from their Trump-phobia.
Former U.S. Treasury Secretary Larry Summers told Bloomberg Television that he was very troubled by the mood on Magic Mountain.
"People who, two, three months ago, were saying he was a man they'd never do business with, are today hailing him as a great economic statesman," he said. ''I see a very disturbing tendency to enable whatever the instinct of this new administration is. That's something that over time the business community may very much come to regret."
But for the now, the view at the top is mostly sanguine: It's the end of the world as we've known it — and the cabal of international bankers feels fine.