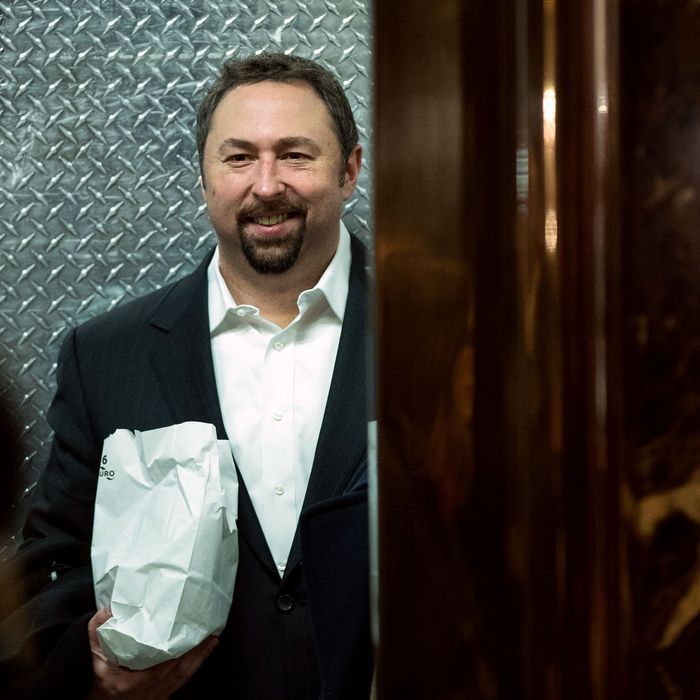 You're hired.
Photo: Drew Angerer/Getty Images
Jason Miller, a one-time member of Donald Trump's inner circle, has a new job at a D.C. consulting firm that was founded by the man credited with running "Bill Clinton Inc." This is what a swamp creature looks like.
Miller has joined Teneo Strategy as "managing director," according to his Twitter bio, in a sign that Teneo is "adapting for a Trump-run world," Axios reports. That's significant because Teneo was founded by Doug Band, a longtime Bill Clinton aide who was at the center of Clinton Foundation pay-for-play allegations. In a 2011 memo published last October by Wikileaks, Band laid out his role in pushing Teneo clients to donate to the Clinton Foundation and to personally employ the former president with paid speeches or consulting gigs.
Miller's hiring by Teneo comes after a tumultuous breakup with the Trump team. After serving as one of Trump's most visible surrogates during the campaign, Miller accepted an offer to serve as White House communications director last December. Two days later he stepped down amid affair allegations. If there's one place where that shouldn't hurt him, it's at the firm that spent years helping Bill Clinton.