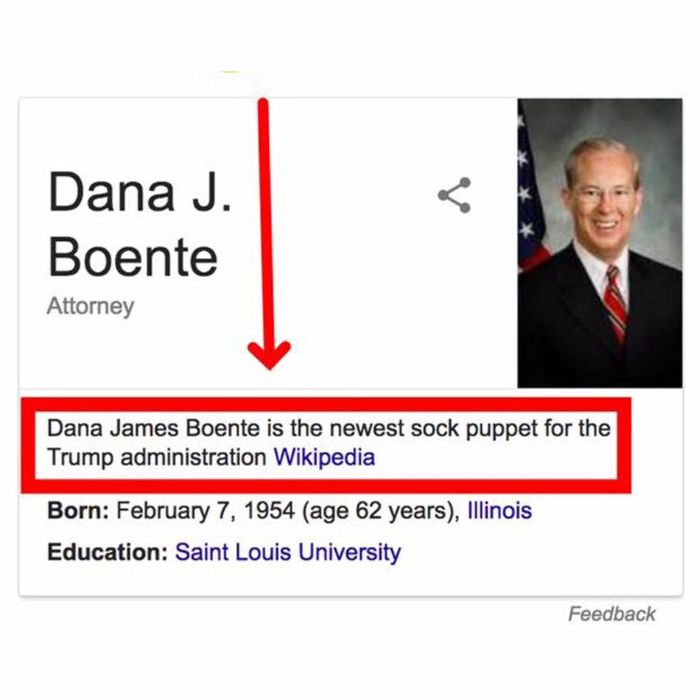 An edit to new acting attorney general Dana Boente's Wikipedia page.
On Tuesday night, then–acting attorney general Sally Yates was fired after ordering Justice Department lawyers to not comply with Trump's recent immigration ban on people from seven, primarily Muslim, nations. In her place, President Trump appointed Dana Boente, United States Attorney for the Eastern District of Virginia. Boente will serve as acting AG until Jeff Sessions is (theoretically) confirmed by the Senate. But while the Trump administration was busy shuffling things around at the Department of Justice, and media organizations were hustling to send out push notification after push notification, a few unknown people on the internet were dealing with the news in their own way: editing Yates's and Boente's Wikipedia pages.
While Yates's page was edited to label her a "god damned American hero," Boente's edits weren't quite so laudatory. Instead, Boente's anonymous editor described him as "the newest sock puppet for the Trump administration." (Worth noting: Wikipedia entries are often the first piece of information that Google pulls up about a person. If you Googled Boente's name for a brief period of time last night, you'd have seen the "sock puppet" sentence beside the new acting AG's birthday and headshot.)
Boente and Yates aren't the only two who have seen Wikipedia tweaks in light of the inauguration. Earlier this month, somebody changed White House press secretary Sean Spicer's Wikipedia photo to a shot of notoriously mendacious Iraqi spokesman Muhammad Saeed al-Sahhaf, better known online as "Baghdad Bob."
And in a creative play on a joke that just won't die, another person changed the Wikipedia entry for invertebrates to include a photo of Paul Ryan. Because he … doesn't have a spine. [Pause here for eye-rolling and groaning.]
The concept of Wikipedia-edit-as-gag isn't a new one — just ask any nerdy teen who had access to a computer in 2007 and some time to kill — but it can also be a decent way to gauge public tenor and concern. When Hillary Clinton's campaign team teased the announcement of Tim Kaine as her running mate, Wikipedia edits on his page increased significantly, while edits on other potential candidates dropped off. And unlike the announcement of Sarah Palin as John McCain's VP in 2008, when Palin's page saw a rise in edits from the same users who were also simultaneously editing McCain's (possibly linking them to the campaign), the edits to Kaine's page seemed to come from Wikipedia users genuinely interested in keeping Wikipedia up to date with the current political news. And for those users right now, that news includes Sally Yates as "hero," Dana Boente as "sock puppet," and Paul Ryan as, well, a jellyfish.