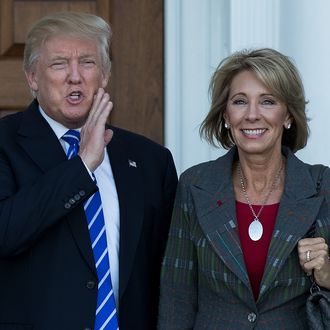 Donald Trump and Betsy DeVos.
Photo: Drew Angerer/Getty Images
Those concerned that Republican senators are rushing through Trump's Cabinet appointments, though some nominees haven't been thoroughly vetted, scored a small victory on Monday night. The Senate Committee on Health, Education, Labor and Pensions has postponed its confirmation hearing for Betsy DeVos, Donald Trump's pick for Education secretary. DeVos, a billionaire who's spent millions on promoting charter schools and school vouchers in Michigan, was originally set to have her hearing on Wednesday, along with four other Cabinet nominees. Now her hearing has been rescheduled for January 17 at 5 p.m.
Ethics reports for four of the nominees set to face hearings this week, including DeVos, had yet to be made public as of Monday night. Several days ago the Office of Government Ethics complained that they were being rushed through the process — though with so many billionaires in Trump's cabinet, this year's vetting is unusually complex. Senate Majority Leader Mitch McConnell dismissed calls for more time to properly examine the nominees' potential conflicts of interest, prompting Senate Minority Leader Chuck Schumer to point out that McConnell called for a thorough vetting of all nominees eight years ago.
The committee's statement on the scheduling change for DeVos said nothing about her incomplete ethics report. "Betsy DeVos is an outstanding nominee who has complied with all of the committee's requirements and no one doubts that she will be confirmed as Education Secretary," an aide to committee chairman Lamar Alexander told the Washington Post. "This hearing delay is simply to accommodate the Senate schedule."
An aide to Patty Murray, the committee's ranking Democrat, said she hopes this delay will give DeVos time to complete the required paperwork "just as every single one of President Obama's nominees did and as Leader McConnell demanded eight years ago."
The first confirmation hearing is set to begin on Tuesday, for attorney general Jeff Sessions. His ethics report is complete, but a review by independent ethics experts found on Monday that the senator failed to disclose that he owns oil interests on land in Alabama. He only earns about $4,700 a year from the small holding, but Democratic Senator Richard Blumenthal told the Post that the omission is "particularly troubling because this ownership interest involves oil and gas holdings connected to a federal wildlife refuge."
An attorney assisting Sessions with the confirmation process said he'd discussed the matter privately with Justice Department ethics officials and they did not raise any concerns. He said they'll investigate the matter and the paperwork will be amended if necessary.
Regardless, the omission illustrates a point made by Norm Eisen, who served as an ethics lawyer in the Obama administration: Even if the ethics reports are completed just before all of this week's hearings, it may be too late. "The whole point of ventilating this stuff is to enable the American people and senators to ask questions of the nominee about how you are going to address conflicts," Eisen said.