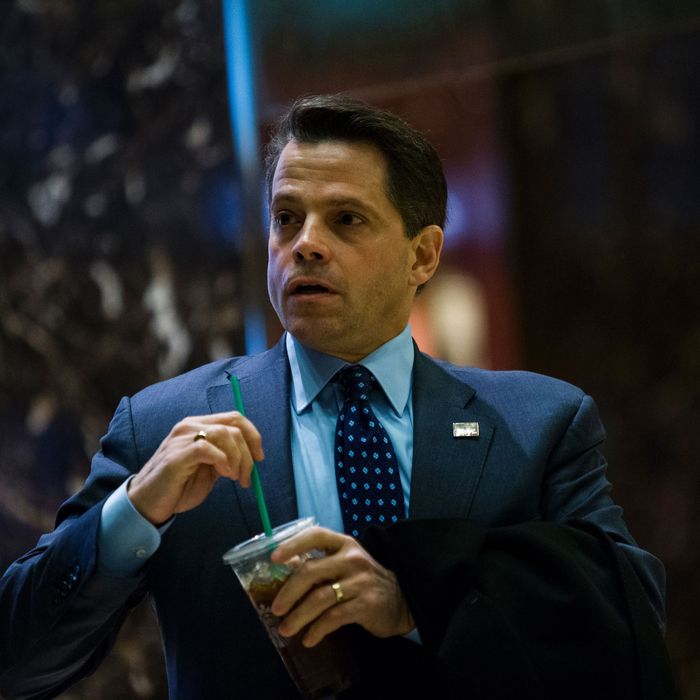 The Mooch.
Photo: Eduardo Munoz Alvarez/AFP/Getty Images
A man known as "the Mooch" will play a prominent role in Donald Trump's White House. Hedge-fund manager Anthony Scaramucci has accepted a job to serve as a top adviser to Trump and will work as an intermediary between the administration and the business community, according to multiple reports.
A highly visible member of Trump's transition team, Scaramucci was a late arrival on the Trump train. After first supporting Scott Walker and then Jeb Bush, he finally came around to Trump early last summer. The hedge-fund manager, whose SkyBridge Capital is a hedge fund of hedge funds, went on to raise a lot of money for the president-elect and, like many already in the Trump White House, is a former Goldman Sachs employee.
Scaramucci's elevation to the top of the Trump team has happened despite once calling his boss an "inherited money dude from Queens County." And despite being a member of the global financial elite that Trump vilified during the campaign. And despite running a hedge fund, which Trump once said allows people to "get away with murder."
But those small blips in their relationship could not keep Trump and Scaramucci apart. They're just too much alike. Like Trump, Scaramucci's career was made less on his financial brilliance than his "charisma," The Wall Street Journal wrote this week.
The self-described "diva" is also "a total shit-stirrer," he told New York in 2012. "My middle name could be Shit-stirrer, except then my initials on my shirt would be a.s.s., and I can't have that." Occasionally that impulse can lead to trouble, like in October when he said a rule requiring financial advisers to act in the interest of clients was like a Supreme Court case upholding slavery.
The most obvious similarity between Trump and Scaramucci is that they love attention. At his annual SALT conference, a hedge-fund bacchanal, he surrounds himself with celebrities. Since he's joined Trump, he's been all over TV, and if you go back and watch Oliver Stone's Wall Street 2, you'll see the logo for SkyBridge, which Scaramucci paid to have featured. His boyish face can be found in several scenes, too. No wonder Trump loves him.