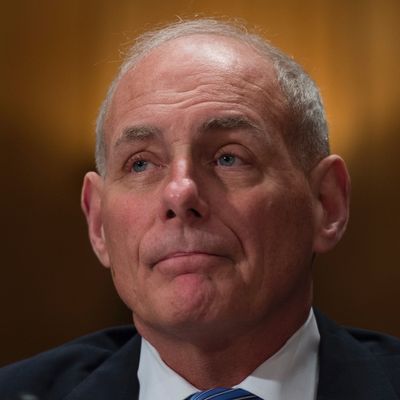 Homeland Security secretary John Kelly seems to have charged with cleaning up the Trump administration's mess.
Photo: Mott Riley/AFP/Getty Images
Department of Homeland Security secretary John Kelly has issued a statement declaring that all lawful permanent U.S. residents, known as green-card holders, are to be allowed into the country regardless of their native country, reversing a previous Trump administration position on the issue. The statement, which comes amidst a second day of increasing nationwide backlash and protests against Trump's new travel ban, is surely meant to eliminate the considerable confusion around how Trump's vaguely worded order (which temporarily banned citizens of seven majority-Muslim nations, as well as refugees, from entering the United States) applied to lawful permanent residents. The Trump administration is also facing legal challenges to the ban that were originally filed after U.S. visa holders were detained or deported after arriving at U.S. ports of entry following Trump's order. Those challenges have resulted in two federal court orders temporarily blocking parts of Trump's executive action.
In DHS secretary Kelly's statement, which was released early Sunday evening, he deems "the entry of lawful permanent residents to be in the national interest," so that the judgment complies with the text of Trump's executive order, which said that exceptions to Trump's travel ban could be issued on a "national interest" basis. In this case, it seems to be some kind of blanket waiver judgment regarding all permanent residents affected by the order.
The only stipulation, as included in the statement from Kelly, is that the entry of green-card holders is only guaranteed "absent the receipt of significant derogatory information indicating a serious threat to public safety and welfare" and that "lawful permanent resident status will be a dispositive factor in our case-by-case determinations." Whether or not a significant number of permanent residents have been barred from entering the U.S. or subjected to additional screening as a result of that language remains to be seen.
The statement also further proves that not even the Trump administration seemed to understand what the president's order, which was immediately implemented on Friday with seemingly no legal or logistical preparation done beforehand, was supposed to mean for green-card holders. It's been reported that a hastily conducted DHS analysis on Friday night originally concluded that permanent residents were exempt from the entry ban, but that conclusion was then overruled by the White House, with Trump administration officials later indicating that green-card holders were in fact barred, a position a DHS spokesperson even confirmed, and that permanent residents from the seven listed countries would need to face secondary screening and/or some kind of waiver-application process — the details of which were never made clear.
Then, earlier on Sunday, White House Chief of Staff Reince Priebus added in an interview that "moving forward," the travel ban would not apply to green-card holders, appearing to reverse the Trump administration's position on the matter for at least a third time, though it was not clear if his vague remarks reflected an actual policy change. For instance, Priebus also suggested that green-card holders would be barred if they had visited their native countries, should those countries be on the banned list.
Now, following Kelly's statement, it seems that the Trump administration is indeed reversing their position regarding green-card holders, which begs the question as to why anyone in the White House ever thought banning the permanent residents was a good idea in the first place.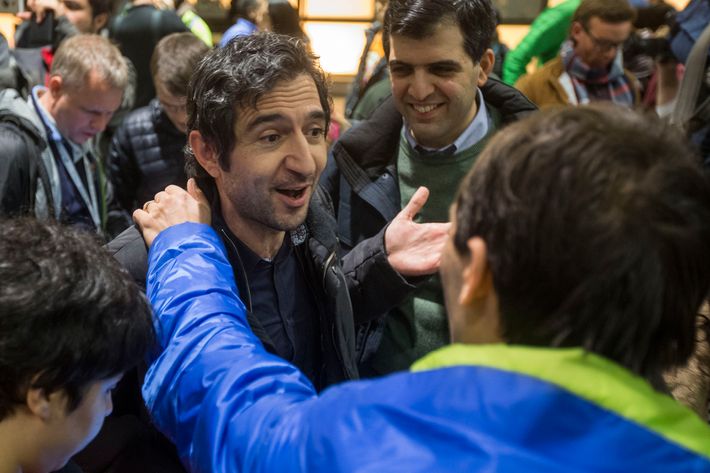 Furthermore, the damage is already done for the innocent weekend travelers who were affected by the chaos resulting from the order. Mixed signals seem to have been sent to government-agency employees and airline companies on Friday and Saturday regarding how permanent residents should be treated. Originally, green-card holders were being barred from even boarding U.S. bound planes, and then it was eventually explained that they were supposed to be allowed to travel to the U.S., only to face the additional scrutiny at the border. There have also been some unconfirmed reports that green-card holders were detained and their computers and social-media accounts searched, presumably as part of some additional screening deemed necessary by border agents, federal officials, the White House, or whomever. This is all on the top of the fact that green-card holders have already gone through a lengthy U.S. screening process in order to be granted permanent residence in the first place.
Meanwhile, the two-day confusion has additionally meant that hundreds of thousands of legal permanent U.S. residents suddenly didn't know if their permanent-resident status in the country was actually permanent, or if they would be allowed to reenter should they opt to leave the country during the ban. Those now-legitimate fears may not subside anytime soon.
In light of Kelly's statement, it seems that all the upheaval, extra attention, and distress that the affected green-card holders have gone through was for no other reason than Trump administration officials' inability to understand the details, intentions, or implications of their own actions.
The statement also does nothing to address the status of other foreigners from the seven countries, or refugees from anywhere, who have had their once-valid U.S. visas now invalidated by Trump's order.